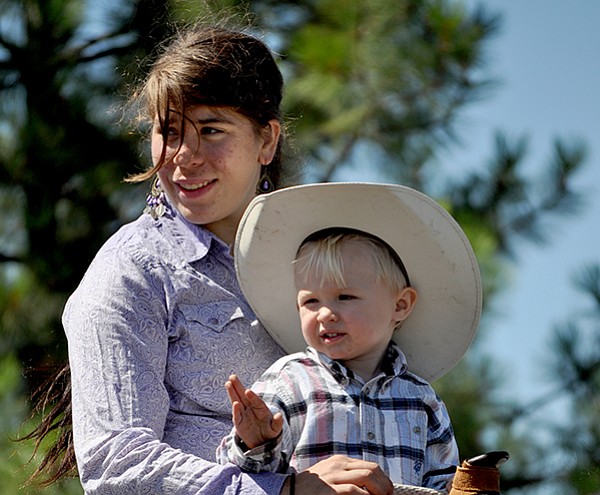 Photo by David Rauzi
Pictured here on horseback during the Elk City Wagon Road Days parade last Saturday, July 18, were Victoria Hunter and her son, Hesston Lee Green, of Harpster.
Photo Gallery
Elk City Wagon Road Days 2015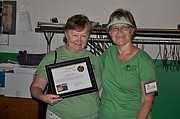 CLEARWATER – Overlooking July's golden hills in the Clearwater Valley, a community festival drew residents, participants and history enthusiasts for an annual commemoration now two decades old.
Elk City Wagon Road Days spanned from Clearwater to Elk City, featuring a parade, quilt show, historic displays, and the highlighted event: a self-guided trip along the historic route that for more than 30 years transported miners into the gold country.
"This is not just about a celebration," said Dana Lohrey, one of the event coordinators for Friends of the Elk City Wagon Road (FOECWR). "This is also about preserving our history."
Mostly completed with private funds, the 53-mile road from Harpster to Elk City was finished in 1895. Travelers went by stage for a $6 fare that would take two days in the summer and five days in the winter. During Elk City's heyday, between 1890 and 1915, the region would boast a 5,000 population. The route – first traversed by automobile in 1911 — serviced the region for nearly four decades until State Highway 14 was completed to Elk City in 1932.
"It's a great turnout, maybe even bigger than last year," Lohrey said.
Several dozens of participants attended Saturday's events. Eighteen parade entries, including horse- and mule-drawn wagons, a USFS pack string and historic automobiles were featured in Saturday's parade at Clearwater. Entries as well as attendance have been on the increase in the past few years, according to FOECWR secretary Linda Winters, due to better promotion and volunteer participation.
"We've got a great committee this year," Winters said. "A lot of people are involved."
Among the attendees was former Clearwater resident Sara Eacret-Neumann of Lewiston.
"My family has been here forever," said Eacret-Neumann, whose mother, Maggie Eacret, and grandmother, Betty Gunter, live in the area. Along with visiting family, the parade was a big draw for her children.
"My boy [Cash, 10] wanted to walk his dog in the parade," she said. And her daughter, Frankie, 3, dressed in a bandana pattern dress and cowboy boots, "She was so excited to get the candy."
For the Sunday self-guided wagon road tour, 25 people in approximately 10 vehicles traversed the route from Clearwater to Elk City.
The friends group was first organized in 1991, holding its first Elk City Wagon Road Days celebration in 1995.