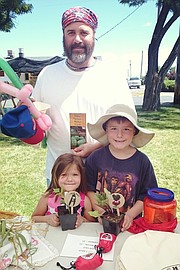 GRANGEVILLE — In celebration of Idaho's Farmers' Market Week as proclaimed by Governor Butch Otter, the Grangeville Farmers' Market will be hosting some special events.
Thursday, July 30, a "Taste of the Market" will be held in conjunction with the final Grangeville Arts Music in the Park. A sampling of the usual vendors will be set up along Main Street in the Pioneer Park from 5-8 p.m. Look for the colorful awnings.
Saturday, Aug. 1, the Market will host guest musicians Helen Smith and Kathy Hedberg. The free children's program, the Grub Club, will begin at 9:30 a.m. with an activity and two $1 tokens for the participants to spend as they wish on produce. While their parents shop, children 5 through 12 are invited to join in this program funded in part with a grant received from the Grangeville Community Foundation.
The Grangeville Farmers' Market is held every Saturday from 9 a.m. to 1 p.m. through Sept. 19. Visit "Grangeville Idaho Farmers Market" on Facebook or call Michelle Perdue at 983-3763.