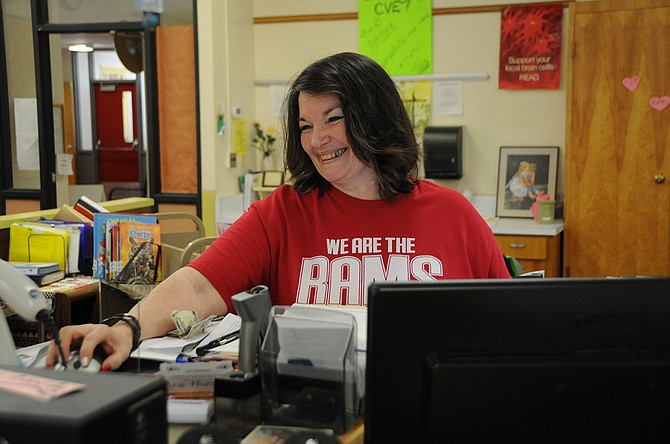 Photo by Lorie Palmer
Patricia Hunter checks in one of the last books of her librarian career at Clearwater Valley Elementary School in Kooskia on May 28.
KOOSKIA — After 28 years on the job, Patricia Hunter has collected her last book fine.
The Clearwater Valley Elementary School librarian spent her last day of school Thursday, May 28, being hugged by students and parents alike.
"Many of these parents were my students," she smiled. "I have seen a lot of kids go through here.
Born and raised in Arkansas, Oklahoma, Kansas and Missouri, Hunter's parents were part of the Camp Zion religious group that moved to Canada when she was child. She boarded out to high school in Alberta, Canada, as a teen.
Robert Hunter of the Clearwater Valley area was a student at Prairie Bible Institute when he saw a photo of a young woman that her brother had. He looked at the girl in the dress with the long hair and made a statement.
"He said, 'that's the girl I'm going to marry,'" Hunter smiled. "That was me."
The couple married in 1972 and eventually made their way back to the Clearwater Valley where they lived on property adjoining Bob's parents and raised three sons: Darin, Jason and Myron.
When her sons were in school she spent time volunteering and then subbed at CV before the librarian position became open.
"I love to read and I love kids," Hunter said. "It was a perfect fit."
Hunter said the biggest change she has seen in the library during her 28 years is the automation.
"Wow, that was really something," she laughed. "Difficult to do but so much easier now."
She also said the Accelerated Reader program increased the school's checkouts by more than 400 percent.
"I always try to help match kids up with their interests and help them fall in love with what makes them excited," she said.
Hunter's book readings are more of performances, she admits, and it is something she hopes to continue.
She had thought of subbing, but a tumor removal behind her ear in 2002 left her deaf in her left ear.
"I don't have good directional hearing and the left ear hearing loss has made it so much more difficult to hear the kids," she said. "But I love to read to them and I hope to continue that."
In the meantime, she and her husband will do some traveling – they have seven grandchildren in all and would like to see more of their activities. Bob retired after 37 years with CFI Mill in Kooskia and currently volunteers at Helping Hands Thrift. The couple is also involved in their church, The Life Center, and she hopes to have some time to make cards and continue to sell Jamberry nail products.
"I will definitely miss all the kids, the staff and the teachers – this has been a wonderful place to work with a great family atmosphere," Hunter said. "But I am also excited for the next chapter. I like change."