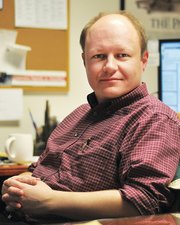 Do town hall meetings matter? Is there value in exercising your free speech to your elected officials among your fellow citizens? Can you truly say it's made a difference?
Maybe not. But sometimes it feels good to vent. And that, too, is an important thing.
Our appreciation goes to Senator Mike Crapo for making a considerable effort to town hall his way across the state to hit 200 communities (seven in Idaho County last week), visiting with constituents and public officials in each, likely making the same repetitive statements at most of the stops, and taking his fair share of tongue-lashings.
Senator Crapo puts on a good meeting, specifically that he's well-versed — with minimal saves by his support staffers — to address pretty much every issue or frustration put to him, and he's honest enough with folks to say when he's ignorant on an issue.

We were happy on some of our pet issues, such as Secure Rural Schools and PILT (Payment in Lieu of Taxes) funding, that work continues on extensions, improvement in dollar amounts, as well as possibly making these programs permanent. But even so, nothing's set, there's still more fights ahead, and so we'll see. Crapo supports many of the same concerns and issues as constituents here, such as state and local control over management of federal lands, and with that his strong belief they remain public and not be sold to private interests. But even so, that's an issue fraught with controversy, so don't expect leaps and bounds of progress there either.
Not everyone was happy at the meetings. Grangeville's town hall got a little vocal concerning a perceived lack of care for veterans, and Crapo was chastised for it. What will come of that issue? Time will tell.
Such town hall meetings are a mixed bag; we're pleased our federal officials – Senator Crapo and to a lesser extent Rep. Raul Labrador — are making the time to come to such small communities as ours, and to listen to what we have to say (or go on and on about). But we can also come away with feeling, "lotta good that did!"
But really it did. Both Crapo and his staff will come away with a renewed perspective on the pulse of rural Idaho communities, of what truly is making folks' blood pressure rise. They'll be making and renewing local connections, which helps in idea sharing and conveying information back to rural communities.
And you got to come and listen, think on what was said, maybe ask a question, or just plain get frustrated and angry. All of those are valuable, but not because they'll change the problem or solve the issue, but because someone – both the official and your neighbors – bothered to come and took a moment to listen to you.