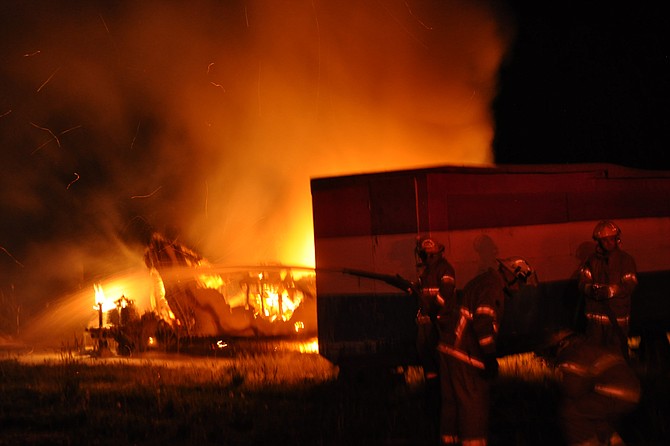 Photo by David Rauzi
Grangeville firefighters took shelter behind a structure as they battled the early morning Wednesday, May 27, trailer fire on North State Street. Safety was the concern due to propane tanks on the trailer.
GRANGEVILLE — Inquiry continues into last week's fire at a Grangeville storage lot that destroyed a 24-foot camper trailer and led police onto possibly related burglaries at the location. Whether these incidents are also related to recent window breaks in the area is undetermined.
"I can't say for sure, but I don't believe in coincidences," said Grangeville Police Chief Morgan Drew.
Cause of the fire was undetermined, according to Grangeville Fire Chief Dan Tackett, who due to the circumstances turned the investigation over to police.
At this point, police are contacting victims to determine what property they may be missing, as well as still trying to track down the owner of the trailer burnt in the incident.
Multiple 911 calls came last Wednesday, May 27, starting at 2:10 a.m. from residents reporting seeing flames at North State Street Storage on North State Street, near the intersection with the truck route and adjacent to Mountain View Mobile Home and RV Park. GPD and Idaho County Sheriff's Office personnel responded to the scene, along with crews and engines from Grangeville Volunteer Fire Department.
The fire destroyed a camp trailer and caused minor damage to the adjacent Elks fireworks stand, which was empty. Even as firefighters worked to control the blaze, police were canvassing the area and found that two RVs and one storage unit had been broken into, and a burglary attempt had been made on a second unit.
Sixteen personnel and three engines were dispatched to the North State Street storage area. Initial law enforcement on scene reported the trailer fully engulfed, though two walls were still standing.
"But when we got there they had pretty much burnt away," Tackett said, the structure having collapsed with only the interior appliances sticking through the burning debris.
"It had a pretty good head start on us," he continued, noting, however, that trailers in general are hard to save from fires as they burn up quickly. Added difficulties with this fire were the trailer's tires, which exploded during the incident, along with its two five-gallon propane tanks that were venting and "causing a lot of flames."
"When you're dealing with propane tanks, you don't know what they're going to do," Tackett said. "They can vent or explode, so you want to keep as far away as you can." In this instance, firefighters used the adjacent Elks fireworks stand as a shield while they applied foam and water to cool the venting tanks until they were inert. Firefighters then moved into tackle the remainder of the fire, knocking it down within 40 minutes, and mop-up was completed around 4 a.m.
With this incident, Chief Drew reminds residents if they notice unusual activity they think is suspicious to contact law enforcement to check it out.
"Please call us. That's what we're here for," he said.
GPD asks the public for information that could assist its investigation. Call 983-1100.