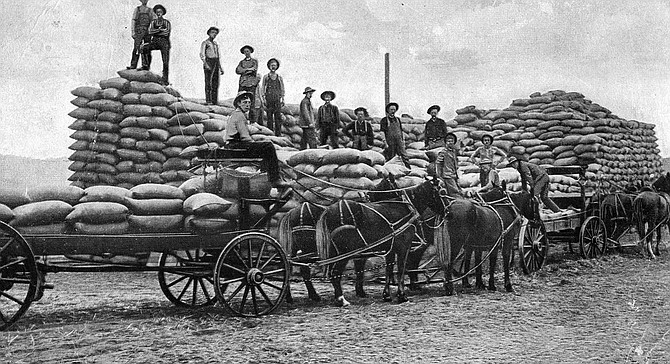 10 YEARS AGO
JUNE 1, 2005
•Rosemary Zumwalt was recognized for 30 years of outstanding service to Syringa Hospital at the annual employee recognition banquet on May 20.
20 YEARS AGO
MAY 31, 1995
•As they say, the third time's a charm. The Grangeville boys tracksters couldn't agree more.
After placing second in each of the last two years, GHS was on a mission to finish this year differently. With good conditions for Saturday's events Grangeville turned up the heat, erasing an eight-point deficit from Friday to capture the State A-3 Championship.
30 YEARS AGO
MAY 29, 1985
•Hal Smurthwait of Union Warehouse fired his fifth 25 of the season. The other perfect 25s were shot by Elmer Moore for Copperhood and Gary Cash for the Lions Club.
40 YEARS AGO JUNE 4, 1975
•RIGGINS – Kenny Marek won two trophies at the Little Britches Rodeo in Council last weekend. He took first in flag racing and third in bareback riding. Randy Beeman won fourths in steer riding and flag racing and David Rainwater took fourth in bareback riding.
50 YEARS AGO
JUNE 3, 1965
•Richard DeHaas, Rick Skeen and Tim Irwin, representatives to Boy's State will leave this weekend for the campus of Boise Junior College where the session will be held.
60 YEARS AGO
JUNE 2, 1955
•On the way from Neah Bay, Wash., to Florida "where the river flows and grass grows – Indian goes," Chief Black Eagle ran into trouble in Grangeville last week. After imbibing some "firewater" Chief Black Eagle decided to go to church – and did. But after the services there was trouble in arousing the Indian so Police Officer Lloyd Gierke was called to the scene and removed the chief to the city jail. Officer Gierke says this is the first time he has been called to a church in the line of duty.
70 YEARS AGO
MAY 31, 1945
•STITES – A sudden rise of water in the Southfork of the Clearwater River last Friday, said to be four feet, washed out the Potlatch lumber road bridge here. The road is used by trucks delivering logs from the McComas Meadows to the Stites spur.
80 YEARS AGO
MAY 30, 1935
•A super cold ice cream freezing plant is being installed this week at Grangeville Creamery. It is a commercial freezer, and the creamery will use it to supply both the retail and freeze wholesale trade. It will freeze one-half gallons of ice cream in five minutes.
90 YEARS AGO
JUNE 4, 1925
•Governor C.C. Moore and wife, and Lieutenant Governor H.C. Baldridge, and daughter, Gale, visited Grangeville on Saturday evening.
100 YEARS AGO
JUNE 3, 1915
•Nine graduates of the Grangeville High School received diplomas as a testimony of work faithfully done. Those who have completed the courses are Marion Sims, Helen Johnson, Clara Brockman, Paul Harlan and Guy Sherwin.
110 YEARS AGO
JUNE 1, 1905
One of the worst water spouts that ever occurred in the country was encountered last week between Robert's and Long's gulch, near White Bird. The stage en route with mail was caught in the midst of the downpour and the drivers were compelled to abandon the stage and walk to refuge. The torrent extended a distance of five miles and in some places washed out great masses of earth 30 feet long and 10 feet deep. It will be a couple of weeks before a team and wagon can make a trip over the road.
120 YEARS AGO
MAY 31, 1895
•The proposition to vote a special tax to maintain nine months of school in this district should be carried without a dissenting vote. The district has put $6,000 into a fine new school house, and it does not show good business to keep it shut up nine months of the year. Vote the special tax.