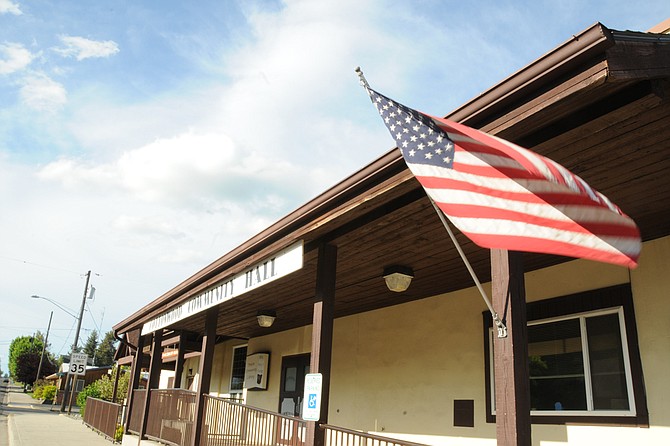 Photo by David Rauzi
Thanks to a recent grant, Cottonwood Community Hall will undergo several renovations.
Nearly a half million dollars in Idaho Community Development Block Grant funds were awarded in May to community projects in Cottonwood and White Bird.
In Cottonwood, $150,000 will go toward a community center improvements project, and in White Bird, $300,000 will benefit a wastewater system project.
•
COTTONWOOD – "We've been working to get ready for this part, and we're there," said Cottonwood City Councilor Shelli Schumacher, reaching toward completion of long-term plans to renovate and improve the Cottonwood Community Hall that first started five years ago.
Grant funds awarded in May will go toward several hall improvements and additions: installing an ADA-compliant ramp in the rear of the building, in the basement adding both a commercial kitchen and a second bathroom, and moving a stairway to access the downstairs through the main part of the hall.
"This has been a phased thing," she said that started with a vision by the Prairie Horizons group and subsequently the city's first grant for hall improvements that included installing windows and a kitchen remodel.
Hall work will be conducted in-house by the city maintenance crew, tentatively starting in September when its summer workload traditionally starts to decrease, and completing the inside work through January.
Estimated cost on this portion of the project is $236,992, of which donations and in-kind work by the city is expected to meet the remainder not covered by the grant.
During this whole process, Schumacher said, "we've had a lot of very generous donations and support."
•
WHITE BIRD — Tentative plans are to start later this year on sections of sewer line and manhole replacement as part of White Bird's wastewater treatment facility upgrade project, according to city clerk Sheryl Clark. This will prepare the way for the main $857,000 project: upgrading sewer lagoons with new rapid infiltration liners, and improving equipment including aerators.
In May, the city was awarded a $300,000 wastewater system project block grant, and determination of another grant award from USDA Rural Development in pending, according to Clark, on Idaho DEQ approval of the city's proposed facility upgrade plan. These funds will be included along with a $2.5 million bond, passed by White Bird voters a year ago in May, for the upgrade project, a final cost for which is yet to be determined.
The city has been working on the project for more than two years to address problems with both old equipment and deteriorated pipes and manholes resulting in inflow and infiltration issues. A year ago in May, the Idaho Conservation League (ICL) filed suit against the city in U.S. District Court on allegations the municipal wastewater facility was in violation of federal Clean Water Act regulations for discharge into White Bird Creek. A settlement in that suit was reached this March with the city agreeing to address problem issues – as through the project and ongoing monitoring and maintenance — as well as paying approximately $15,000 in ICL legal and other expenses.
•
Overall, Governor C.L. "Butch" Otter announced 19 grant awards — reviewed and recommended by the Idaho Economic Advisory Council — to benefit Idaho cities and counties with development of necessary public infrastructure. The grant program, funded through the U.S. Department of Housing and Urban Development.