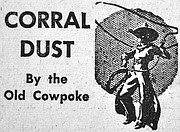 For several decades in past issues, a column entitled "Corral Dust" ran. In honor of the upcoming Border Days season, we have decided to revive this old standby. It will include all the Border Days news, gossip and dirty laundry (OK, we'll keep it clean. And fun.) If you have news for "Corral Dust," e-mail it to lpalmer@idahocountyfreepress.com.
*
Do you need something else for visitors to do during Border Days? Stop by the Grangeville Chamber of Commerce Visitor's Center and get a brochure (they're outside) for Barn Quilts of Idaho County. Listed are 17 barn quilts to view in the county.
*
The fifth annual Grangeville High School all class reunion will be held Saturday, July 4, at the Grangeville Gun Club starting at 1 p.m. The reunion is open to anyone who attended, taught or graduated from high school in Grangeville. All years and their guests are welcome, no charge for anyone to attend and participants are more than welcome to bring their own food and drink. Tables and chairs provided.
In past years the group has included GHS graduates as far back as the 1940s and every decade since has been represented each year.
Five years ago the Social Media Group, "You Know You Grew up in Grangeville, Idaho if …." was started on Facebook by Randy Wells, class of 1970, and now has more than 1,800 members who follow the postings of growing up and good times shared in Grangeville and the surrounding area. For questions call Debbie Koole Carrell, class of 1967, 866-8571, or class of 1970 class member Randy Wells, 699-7474 or e-mail randy@rasnw.com
*
This year's rodeo (July 3, 4 and 5) has $12,800 added money plus entry fees. Entries open up June 21. Go onto to Enterup.Biz or call 845-2051 from 10 a.m. to 5 p.m. Mountain Time. Local team ropers and barrel racers can call Brad Arnzen at 983-5784 after June 15.
*
The Grangeville Music Department will be selling the raffle tickets for this years' Border Days celebration. Top prize is $1,000 with all proceeds beyond that going directly to the music department. Quality Heating and Air has donated the $300 second place prize and LeAnne's Flower Shop and Garden Center the $150 third place prize. If you are a business that would help sell tickets for the program, contact the following number. Watch for the kids performing the National Anthem in the parades, find them selling around town or contact Kathy Stefani at 839-2220