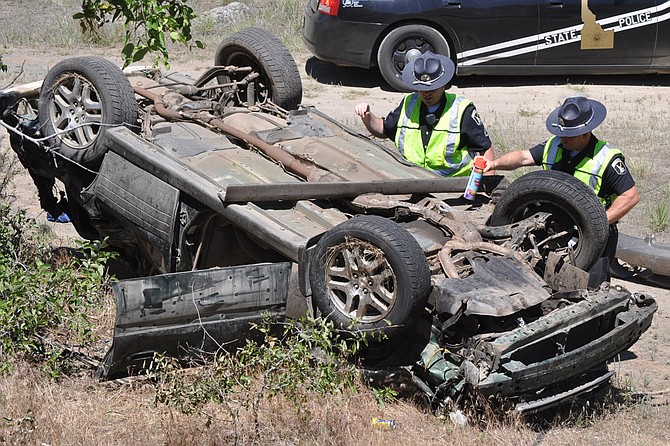 Photo by David Rauzi
ISP troopers investigate last Friday's crash south of Slate Creek.
Tragedy struck just days apart last week in two unrelated traffic crashes that claimed the lives of two Idaho County men.
Seth M. Garrettson, 18, of Grangeville, died last Friday, June 12, in a single-vehicle crash south of Slate Creek on U.S. Highway 95.
Christopher J. Schmidt, 23, died last Wednesday, June 10, in a logging truck accident in Clearwater County.
Garrettson crash under investigation
SLATE CREEK – Idaho State Police is continuing its investigation into Garrettson's rollover crash, which may have happened late that Thursday night or early Friday morning.
"At this point we don't know the cause," said ISP Trooper Zach Nichols, other than Garrettson lost control of his southbound 2000 Subaru Legacy and went off the road at milepost 212.8.
The vehicle went onto the right shoulder where it appeared Garrettson attempted to bring it back onto the road, but was unsuccessful. The Subaru went perpendicular to the highway, caught in the gravel and rolled down the embankment, coming to rest on its top. During this, Garrettson, who was not wearing a seat belt, was ejected.
Due to the vehicle's location it went unnoticed by passing motorists until being reported by a passing Baker Truck Service driver at 8:41 a.m.
Garrettson, a member of the Grangeville High School class of 2015, had just graduated May 22.
ISP was assisted on scene by the Idaho County Sheriff's Office. Dale's Rescue Towing provided wrecker services.
Schmidt dies in logging truck accident
JAYPE – Schmidt died of his injuries at the scene last week following a crash on State Highway 11.
The crash was reported at 7:05 a.m., according to Idaho State Police (ISP). Schmidt was driving a fully loaded 1977 Kenworth logging truck southbound when near milepost 32 he was unable to negotiate a curve. The tractor and trailer went off the right side of the road, over the embankment and overturned. Schmidt was not wearing a seat belt.
The roadway was intermittently blocked during the recovery of the tractor and trailer.
According to his obituary, Schmidt was a 2010 graduate of Prairie High School and received his associate's degree in auto mechanics from Lewis-Clark State College in 2012. He had just become engaged in March to be married next year.
Assisting ISP were the Clearwater County Sheriff's Office, Cottonwood Police Department and Idaho Transportation Department. Jackson's Towing handled vehicle recovery.