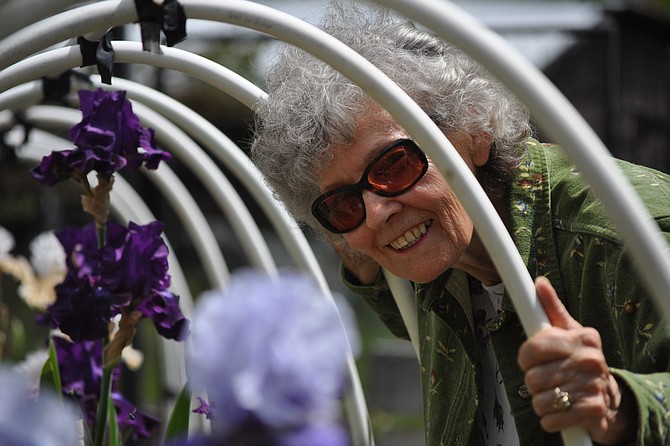 Photo by David Rauzi
Judy Bean looks through a section of her iris beds on her property above Harpster.
HARPSTER — Brilliant colors of sunburst yellow, velvet purple, sky blue and burgundy wine stand along and through Judy Bean's expansive garden plot above Harpster. Many of these irises are in full bloom and some just past. Bean is about ready for a harvest.
"I sell them every year," Bean said of the iris bulbs. She's on a three-year rotation for her beds, replanting bulbs and tending these plants for three years, at which time they're ready for harvest. "I have something coming up every year."
Bean and her husband, Marshal, live on 10 acres off Lightning Creek Road, tending to providence in the form of apples, plums and cherries, as well as the produce of their 75-by-100-foot garden from lettuce to strawberries. Bean is locally known by many for her children's picture book based on the couple's precocious cat, Percy, but when August rolls around and the Raspberry Festival kicks off at Cottonwood, her other title comes out: iris lady.
"For the last four of five years I've been selling them at the festival," she said, at $5 a bulb. Depending on the growing season, Bean will reap between 50 to 70 bulbs in a harvest — those going to sale at the festival she will have them cleaned and ready for buyers to turn around and plant them right back in the soil.
"Everyone loves irises, but me, I didn't though," Bean said, at first, having only started to grow them on her own about 10 years ago. Before that she hadn't thought much of what she perceived as the limited number of iris colors available, but then her stepdaughters gave her a plant catalog and a $100 gift certificate. "That started it," she said, and from here started to grow her own.
Iris care is pretty straightforward. Bean advises regularly cleaning off the dead leaves (which she'll prune to a six-inch high fan), watering once a week, and a 6-10-10 fertilizer. A portion of the bulb above ground should be kept uncovered, about half the depth of the space between thumb and forefinger when holding the bulb.
"You can cover it up in the winter, but come spring you'll want it uncovered to help it bloom," she said.
Bean has her irises growing in several areas through the couple's garden, alongside it, and in repurposed hog troughs lining a driveway. Space is at a premium, so she and Marshal exchange and take over growing plots for their own gardening manias.
"People come back every year," she said for her iris bulbs and the planting and care advice to nurture these plants for single, double or more blooms every year. It's a seasonal process of planting, weeding, maintenance along sloped paths and – at times – precariously balanced stepping stones: All of this gets progressively more challenging as the years go by.
"It's a lot of work, and I'm getting too old for it," she laughed.