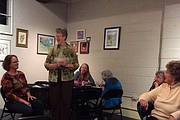 Big Cedar Homemakers
On May 13, 14 members of the Big Cedar Homemakers club met at The Gallery in Grangeville for our annual luncheon. 2 guests joined us, Eunice Wixtrom and Jeanne Brown.
To facilitate meeting new people, we each received a postcard when we arrived. It contained half of a street name in the Big Cedar area. Our goal was to find the person with the other half of the street name and ask them some questions. Some of the questions were: are you a morning person and if you could be any animal would you be. Warning, many ladies in the group would be a cat, since they are so independent.

After our mixer and a wonderful lunch by the Gallery, the meeting was called to order at 12:55 p.m. by President Kris Perry. Kris shared the thought for the day, "If you want to change your world, start by making your bed."
Dawn Stryhas met with Joe of Premier Painting to talk about repainting the schoolhouse. After pressure washing and scraping the old paint, Joe recommends using Peel Bond on top of the wood (it fills in the cracks, seals and primes it) and then covering with high quality latex.

Madelon Gribble shared some Big Cedar Homemakers history. The group was founded February 20, 1967 with 5 members. In 1968 Big Cedar Homemakers had 15 members and had their first fair entry. The group had their first Christmas swag sale in 1987 with 50 swags made. Every year since, the group has made 200 swags for sale. In 1999 we had 38 members.

Community events discussed were:

Ridge Runner Fire Dept. Open House – June 6 from 12 – 3 p.m. They are honoring Jean Carroll for her land donation for the firehouse at 1 p.m. Free lunch will be served at the firehouse on Red Fir.
RRFD is selling hog raffle tickets as a fund raiser. This is a 250-300 pound on the hoof hog, fully butchered to your specifications. Tickets are $5 each or 5/$20. Winner will be drawn on Friday, June 19th at the RRFD luau at the Big Cedar Schoolhouse from 6-8:30 p.m. $5.00 for dinner tickets. Call Rachel Andrews at 926-4327 or Irene at 926-4783 for raffle tickets.
The meeting adjourned at 1:21 p.m. Our next meeting will be held on June 10, 2015 at the Big Cedar Schoolhouse with Irene Finehout as hostess.
Big Cedar Homemakers is open to any ladies in the Clearwater Valley area. We would love to see you at our next meeting. Contact Irene Finehout at 926-4783 for more information.
Cottonwood Senior Citizens
Dolores VonBargen opened the June 9 meeting of the Pioneer Senior Citizens with the Pledge of Allegiance and also led the dinner prayer. There were no guests this week. There were 43 dinners served with 13 takeouts. Josephine Schacher won the free dinner.
Katie Remacle, Diane Schultz and Barbara Rehder each shared a joke this week.
Vera Holthaus and Katie Remacle shared the nickel bingo pot while Judy Arledge won the blackout pot. Door prize winners were Irene Terhaar, Ralph Sprute, Sylvia Forsmann, Lenore Hill, Dixie Sharrard and Gen Broker.
Menu for June 23: baked cod fillet w/tartar sauce, potato wedge, sliced tomatoes, broccoli and cauliflower, peaches and apple cake.
Grangeville Senior Citizens
The May 29 meeting was opened by the Pledge of Allegiance led by Roy Powell and the prayer was given by Tom Helmick. The free dinner came to Ruth Amstutz. There were 72 meals and 35 takeout meals served.
Nickel bingo winner and blackout winner was Jim Barnett.
The menu for June 5: hot roast beef sandwich, mashed potatoes, gravy, green salad, cherry cobbler, and birthdays were celebrated; June 8: tuna noodle bake, green beans, salad greens, balsamic dressing, mandarin oranges, date bars.
Lively Livestock 4-H
The April meeting for the Lively Livestock 4-H Club was held on April 26. New business discussed consisted of the May 2 bake sale at Asker's, the May 9 horse clinic and judging in White Bird, the June 8 horse camp, and the all-important June 13 Spring Show.
Upcoming dog clinics are going to be located at GEMS on June 8 and 28 at 5:15 p.m. It is recommended that you bring one or two poo bags in case your dog feels the call of nature during the clinic!
Also discussed was the theme for stall decorations at the fair which is Finding Neverland. Demonstrations given were: how to select the best dog breed by Clarissa Stevens, how to give your sheep a shot by Levi Stowel, how to make a perfect light canning syrup by Abigail Stowel, how to give your chicken a bath by Aiden Acton and one on how to potty-train your chicken by Isaiah Linaberry.
—Isaiah Linaberry