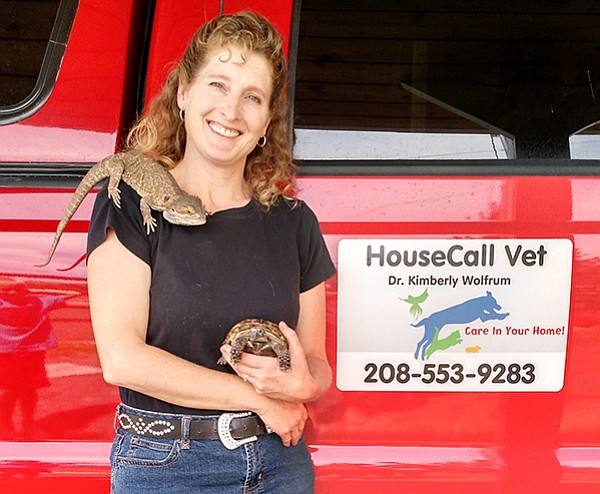 GRANGEVILLE — When you have a pet in your neighborhood, who you gonna call? Kim Wolfrum!
Veterinarian Kim Wolfrum obtained her DVM in 1999 and has spent the past 16 years working for various clinics. In May, she decided to go out on her own.
"I saw a need for a house call business," she said. She has started HouseCall Vet, specializing in home veterinary care, and is up and running.
Wolfrum is mainly doing small animal care and does not do emergency work.
"I do exams, vaccinations and deworming," she said. This includes horses. Any work she does not feel comfortable doing she will refer to a local veterinarian clinic. She also offers cat spays and neuters and dog neutering (no spaying for dogs). In addition, she can provide dental exams and teeth cleaning as well as extractions.
Wolfrum will make house calls with a $20 visit charge for pets and then vaccinations and deworming start at $6 and go up from there. Other costs depend on the procedures. She will see 4-H small animals, rabbits, pocket pets and more.
"I didn't want to do something full time, as I am a mom to four children first," she said. "But I did see a need for home visits, especially for people who may have several small animals to round up, or elderly people who cannot get out easily."
Wolfrum's main concentration will be Grangeville and the surrounding areas but she will travel to where she is called, as long as the customer understands there is a fee for extra mileage. She will be spending a day a month in Elk City to assist with pets there.
HouseCall Vet will also be offering various discounts throughout the months such as 4-H and senior rates.
To reach Wolfrum call 553-9283 or e-mail housecallvetdrkim@gmail.com.