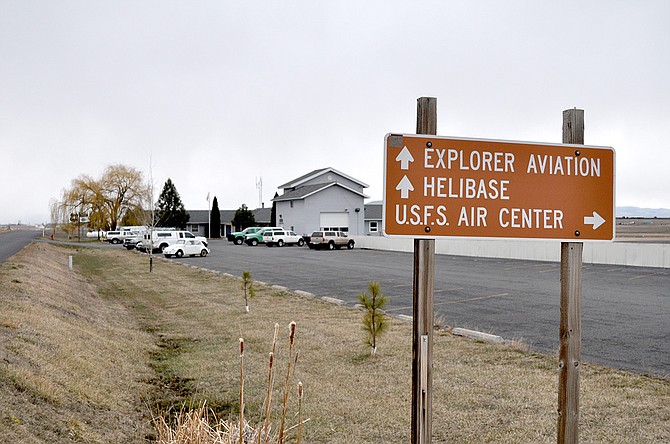 Photo by David Rauzi
The Grangeville Air Center (GAC) at the Idaho County Airport in Grangeville.
GRANGEVILLE — "The base will be fully staffed, and operations will be the same," said Willy Acton, forest aviation officer for the Nez Perce-Clearwater National Forests.
Planning is under way to adjust aerial firefighting resources from the Grangeville Air Center (GAC), pending federal funding and implementation of the $8 million Idaho County Airport runway reconstruction project this summer.
GAC helicopter operations should remain the same; however, fixed-wing aircraft are proposed to be redeployed at airports in Cottonwood and Lewiston. On average, 30 smokejumpers and six aircraft operate from the airport during the wildfire season. According to Acton, the proposal is for one smokejumper aircraft and two aerial detection aircraft to be relocated to Cottonwood, and the remainder to be at the Lewiston-Nez Perce County Regional Airport.
For the agency, the biggest impact from this project will be the logistics in setting up operations in these regional locations, as well as coordinating activity. This is not unfamiliar work to the Nez Perce-Clearwater National Forests that routinely set up remote bases across the U.S. And this has not been the first time county airport work has necessitated temporary aircraft relocation, according to Acton: approximately seven years ago, a runway project resulted in relocating fixed-wing operations to Cottonwood for several days.
"And it was successful," he said.
"One of the main differences people on the ground may see is in the response time," Acton said, depending on the fire incident location. "Our intent is to mitigate that by bringing in more aircraft and personnel during the push of heavy fire activity."
A temporary increase in personnel is anticipated to manage aircraft operations spread across three locations, and this will continue to be directed from the forest's dispatch center, as normal, that will be unaffected during the proposed project.
"Our hub of control is still here," said Andre Ruoti, airtanker base manager.
Outlook as to the upcoming fire season is still undetermined, but forest officials noted appropriate fire resources and personnel will be brought in depending on the season's severity.
Along with Idaho County, the Forest Service is developing contingency plans for its dispersed operations during the project with state and federal agencies including Idaho Department of Lands, Nez Perce Tribe and BLM.
"Mike [Cook, county airport manager] and Idaho County have been great to work with through this process," Acton said. "They've kept us very well informed through all the stages, sharing information and allowing us to participate in the process."