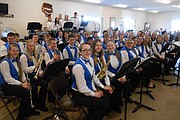 CVHS sets this Thursday, Friday for musical
KOOSKIA — Clearwater Valley High School will present "The Wizard of Oz: Young Performer's Edition," Thursday and Friday, March 12 and 13, 7 p.m., each night in the CVHS cafeteria. Tickets are $5 each at the door. This is a full musical directed by band and music teacher Mrs. Elizabeth Nuxoll.
Sausage feed set for White Bird this Sunday
WHITE BIRD — The eighth annual Joe Wilson St. Paddy's Day Sausage Feed is set for Sunday, March 15 from 7:30 am - noon in White Bird at the IOOF Hall. Enjoy a family style meal of fresh grilled sausage, scrambled eggs, hot cakes, juice and coffee while listening to music performed by the Idaho Old Time Fiddlers, for $8 per person. A major portion of the proceeds will be donated by the White Bird Chamber to the local EMTs and the Royal Gem Rebekahs.
Relay kickoff to feature Jason Schuster
KOOSKIA — Jason Schuster will headline the Clearwater to Salmon Rivers Relay for Life kickoff event Friday, March 20, at the Old Opera House Theater in Kooskia. The show starts at 7 p.m.
For tickets call Cindy at 935-5800 or Teresa at 935-5030.
Students to travel to Moscow for District II competition
GRANGEVILLE — District II Solo/Ensemble Festival for the Grangeville Music Department will be held this Wednesday, March 11, in Moscow. Sixty-six students, grades 6-12, will participate and/or compete, performing solos and/or small ensembles of duets, trios, etc., for experts on their voice/instrument. Ratings earned vary from good, excellent or superior. Thirteen Grangeville High School students will compete for superior ratings in hopes of moving on to the state division on May 1 in Pocatello. All students are under the direction of Kathy Stefani and accompanied by either Stefani, Chris Rogers or Kristin Kaschmitter, senior at GHS.
Red Cross blood drive set for CVHS March 13
KOOSKIA – An American Red Cross blood drive will be held Friday, March 13, at Clearwater Valley High School in Kooskia, 4643 Highway 13, 9:30 a.m. - 2:45 p.m.
Author Greg Gerot to sign book in Kooskia, Kamiah
Author Greg Gerot will sign his book, "Headquarters," Tuesday, March 17, 1 to 2:30 p.m., at the Kooskia Community Library, 26 Main St, Kooskia. Following this, from 3:30-4:30 p.m., he will also sign his book at the Kamiah Library.
Free Easter dresses available for little girls
GRANGEVILLE — Easter will soon be here. Hope Center, located at 111 N. College St. in Grangeville, has an assortment of little girl's fancy spring dresses. Stop by on Mondays from 1-5 p.m., or Wednesdays and Fridays from 1-4 p.m. to see the selection of free gently used children's clothing.
Clearwater luncheon set for March 18
CLEARWATER — The Clearwater Meal Center's next luncheon is set for Wednesday, March 18, noon. Meals are served the first and third Wednesdays of each month at the Clearwater Baptist Church. No charge for the luncheon, $5 donation appreciated when possible. All are welcome.
Goldman wins award at Jazz Festival
MOSCOW — Lauren Goldman, a sophomore at Grangeville High School and the daughter of Jeff and Becky Goldman of Grangeville, was recently honored with an outstanding soloist award at the Lionel Hampton Jazz Festival in Moscow. Goldman is a member of the Varsity Blue Choir at GHS and performed a featured solo doing the Ray Charles classic "Georgia on My Mind."
CHS Harvest for Hunger walk/run set is March 21
FERDINAND – CHS Primeland is holding a fun run/walk Saturday, March 21, in Ferdinand, to support local food banks. Sign-up will be held in front of the Trestle Brewing Company at 3 p.m. at 413 Main Street. The event starts at 4 p.m. The distance for the run/walk is 3.1 miles.
Registration forms are at CHS Primeland location or on the web at http://www.chsprimeland.com/. Cost is $15 for registration and shirt or $10 without a shirt. Day of the event registration is $20 with shirt, $15 without. Make donations by March 21.
Call Linda Flynn with questions at 983-0210.