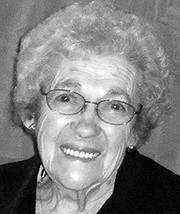 Cora B. Earp, 87, passed away Sunday, March 8, 2015, at St. Mary's Hospital in Cottonwood. She was born Sept. 21, 1927, in Reedpoint, Mont., to Oisten and Godtfreida Bue. She graduated from Reedpoint School and went on to cosmotology school in Spokane, Wash. She married Cecil Earp on Feb. 14, 1947, in Big Timber, Mont. They resided in Spokane for a couple of years before moving back to the Camas Prairie to farm. They enjoyed 67 wonderful years before his death in May of 2014.
Her social activities through the years included membership and secretary of the Idaho County Farm Bureau, The Cowbelles, Swine Growers Association, Wool Growers Association, Lady Elks and the Tuesday Tea Club.
She enjoyed gardening, especially raising beautiful flowers, antiques, setting a beautiful table for entertaining, dancing, and traveling around the U.S. with her husband on their Goldwing motorcycle. She loved getting visits from her grandchildren, catching up on their latest endeavors. She always went out of her way to be of help to everybody, but especially her family.
She was preceded in death by her husband, Cecil; son, Michael; brothers, Jacob and Clarence Bue; son-in-law, Bill Longeteig; and a great-grandson, Nathan Frei.
Survivors include her two daughters, Beverli Longeteig of Craigmont, Idaho, and Jana (Michael) Frei of Grangeville, Idaho; seven grandchildren, Lisa (Santa Fe, N.M.), Torrey (Salt Lake City, Utah), Kelli (Seattle, Wash.), Chad, Russell and Kristin (Grangeville, Idaho) and Alex (Weilerbach, Germany); and 14 great-grandchildren.

Services will be held on Saturday, March 14, at 11 a.m. at Blackmer Funeral Home with burial to follow at Prairie View Cemetery.
The family suggests donations to the Trinity Lutheran Church in Grangeville, or Animal Ark due to her love of animals.
We love you, Mom, and we will miss you and your beautiful smile. Have fun dancing with Dad and "bless her heart." Send condolences to the family to Blackmerfuneralhome.com.