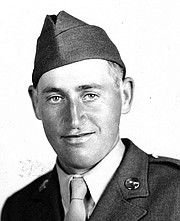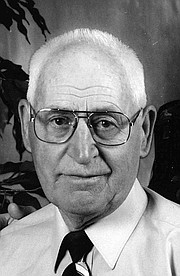 Edward Uptmor, 94, a lifetime resident of Keuterville, Idaho, passed away Tuesday, March 3, 2015, at his home.
Ed was born Sept. 1, 1920, to Joseph and Caroline (Luchtefeld) Uptmor. After the eighth grade, Ed farmed with his dad and worked in a sawmill until he was drafted into the U.S. Army and served with the 147th Infantry in Iwo Jima and Okinawa, 1944-1946. Upon his honorable discharge he returned to Keuterville and continued farming. Ed and Teresa E. Enneking were married Oct. 17, 1946, for 68 loving years. They raised 10 children along with hogs, beef and chickens. Ed also drove school bus for 29 years.
Ed enjoyed work of all kinds: haying, recreational logging, working with cattle, plowing snow and building fence. Relaxing consisted of square dancing, visiting with friends and neighbors, eating ice cream on Sundays and watching M-A-S-H episodes.
Edward is survived and will be deeply missed by his wife, Teresa; and sons, Gary (Marilyn) of Great Falls, Mont., Roger (Chris) of Keuterville, Steve (Gina) of Lewiston; daughters, Carole McDowell of Silverdale, Wash., Joyce Uptmor of Spokane, Wash, Nancy Lustig (Ed) of Cottonwood, June Aiken (Darrell) of Grangeville, Donna Brown (Ken) of Spokane, Wash, Lori Courtright (Robin) of Grangeville; and 29 grandchildren and 28 great-grandchildren.
He was preceded in death by his parents; a son, Dale Uptmor in 1984; three brothers, Al, Leo and Victor; and two sisters, Mildred Sprute and Agnes Goeckner; and a great-grandson, Thomas Lustig.
A Rosary was recited followed by a funeral Mass celebration on Saturday at St. Mary's Catholic Church in Cottonwood. A graveside service followed at the Keuterville Cemetery.
Uhlorn Funeral Home, Cottonwood was in charge of arrangements.