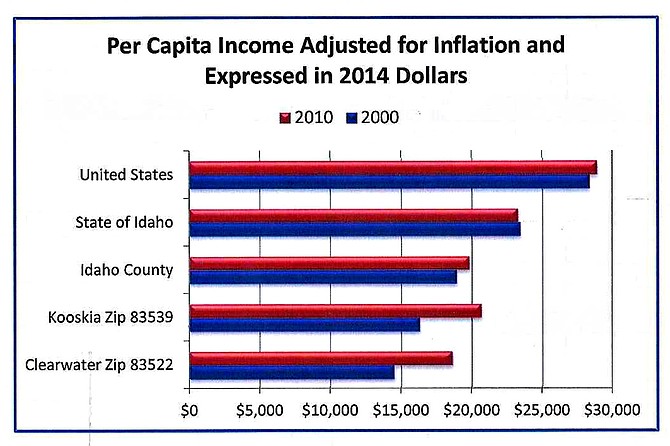 Statistics are often seen for the main cities in Idaho County, but what about the smaller areas?
Idaho Department of Labor Regional Economist Kathryn Tacke recently prepared a report to share with those who attended a recent Clearwater Meal Center dinner.
"She was kind enough to give us 20 color copies – we appreciate her work," said Bill Grady of Harpster.
The report, "Demographics of Clearwater, Harpster, Kooskia and Stites," addressed several areas, including population change, education, mobility, workers, income, housing and the economy.
Population:
"The area's population declined a bit between 2000 and 2010, as the aging of its population slowed birth rates and increased mortality rates," Tacke explained. "During the 2000 Census, the baby boomers were aged 36 to 54 years. By the next Census, they were 46 to 64 years of age. That's why the population in its 30s and early 40s dropped in almost all areas between 2000 and 2010."
The total population for the areas was 3,226, which showed a 3.2 percent decrease from 2000 to 2010. In contrast, Idaho County's population grew by 4.9 percent in that decade and the state grew by 21.1 percent. The United States population increased by 9.7 percent.
The largest percentage of the area's population are the 45-59 and 60-74 age ranges which both equal 25.5 percent of the total population. Those younger than 14 account for 15.8 percent; 15-29 comes in at 12.9 percent; 30-44 at 12.7 percent; and 75 and older at 8.6 percent of the population.
"Like most of Idaho County and many rural communities in northern Idaho, the area's population is older than the national average, while the state's population is somewhat younger," Tacke said. "The older structure of the population reflects the few job opportunities available for youth in the region, and means that births are not making up for deaths."
Education:
"The area has done a good job of encouraging its youth to complete high school," said Tacke.
In the Clearwater-Harpster-Stites ZIP code for 2010, the percent of the population of age with a high school degree or higher was 90.8 percent; in the Kooskia ZIP code, 86.4 percent. For a bachelor degree or higher it was 14.1 percent and 14.5 percent, respectively. This is comparable to all of Idaho County at 87.8 percent and 14.8 percent.
Geographic Mobility:
In the past five years, those who have moved into the C-H-K-S area from a different county within the state equal 146, while those who moved from a different state total 30.
People who moved in by largest age groups were children 18 and younger and adults 30-44.
Tacke noted the younger people moving in tend to have low incomes (less than $25,000), but the other age groups moving in tend to have income exceeding $50,000 a year.
Workers:
Age of workers 29 and younger for the combined C-H-K-S area is 162; 30-54 equals 469; and those 55 and older make up 236.
Top jobs in the areas include retail, 98; manufacturing, 90; educational services, 100; health care and social assistances, 131; and public administration, 123.
Per Capital Income:
"Per capita income is the most commonly used measure of economic prosperity, the C-H-K-S region has seen relatively rapid growth of per capita income," Tacke stated. "When adjusted for inflation their per capita income grew more than 25 percent between 2000 and 2010, but is considerably lower than the U.S. per capita income."
Growth in per capita income, adjusted for inflation, saw the U.S. at about 2 percent; State of Idaho at -1 percent; Idaho County at 4.5 percent; Kooskia ZIP code 83539 at 27.5 percent; and Clearwater area ZIP code 83522 at 28.5 percent.
(For per capita income adjusted for inflation expressed in 2014 dollars, see chart.)
Housing and Economic Characteristics (2008-112 American Community Survey five- year average):
The majority of structures in C-H-S (25.6 percent) were built in 1939 or earlier while the majority of structures in Kooskia (21.7 percent) were built from 1970-79. In C-H-S, 10.5 percent of structures were built from 2000-2009 while in Kooskia that number was 16.9 percent (12.6 for Idaho County; 21.4 for Idaho).
In C-H-S, the largest income bracket is 22.5 percent of the working population making $15,000-24,999, followed by 21.4 percent at $50,000-74,999. Kooskia's largest income bracket is also $15,000-24,999 at 22 percent, then 20.9 percent at $35,000-49,999.
For a copy of the full report e-mail Kathryn.Tacke@labor.idaho.gov.