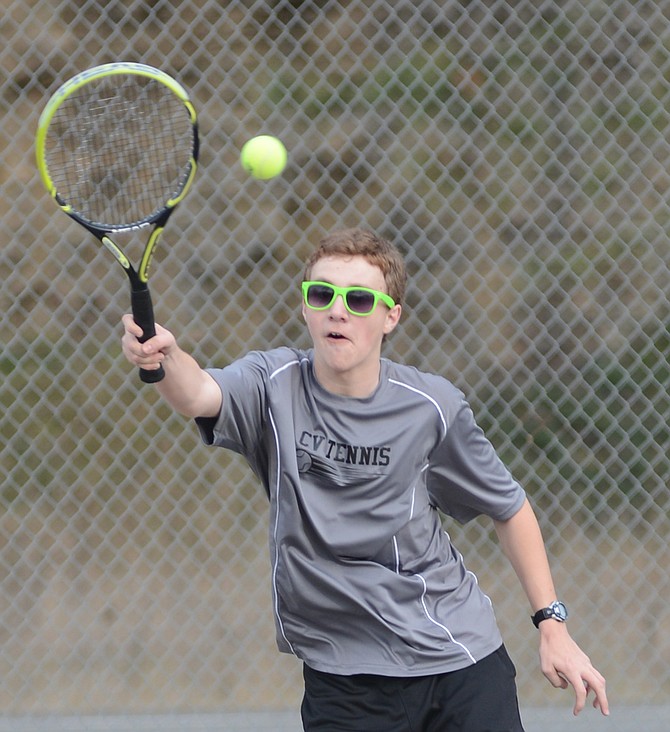 Photo by Andrew Ottoson
Clearwater Valley freshman tennis player Garrett Jackson was one of several Rams who had a good opening day for coach Krisi Pratt's squad last Monday, March 16.
KOOSKIA — They played until the sun went down, and then they turned the lights on.
"When I played, we'd get back from playing at Moscow and some of us would play under these lights for a couple more hours," Clearwater Valley tennis coach Krisi Pratt said on the first night of her second year in charge of the Rams' program.
She talks about the friendliness of the rivalry between Grangeville's No. 1 girls singles player, Savannah Thanstrom, and her own Shalynn Gutzman, and it's clear that she wants her players to have fun — and that she wants to get them on the court as much as possible.
Gutzman and Zach Baldwin return as CV's state qualifiers.
For Grangeville, the top returners among the 21 players coach Kerry McCulley has rostered are Taylor Wilkins, Wyatt Dewey and Jon Asker. With seven boys and 14 girls, that's the most he's had out in recent years. Gutzman squeaked out a 9-7 win over Thanstrom on opening night, but Grangeville took nine of 12 matches. GHS got boys singles victories from Patrick Schumacher over Dawson Georges and Mitchell Nuxoll, while CV won in boys doubles (Garrett Jackson and Parker Wilson over Asker and TJ Wiltse) and mixed doubles (Gutzman and Baldwin over Taylor Wilkins and Lily Willig.)
Coming — CV will host Deary at 4 p.m. Thursday, March 19, while Grangeville will visit Deary at 4 p.m. March 24. GHS and CV will meet four times this season.