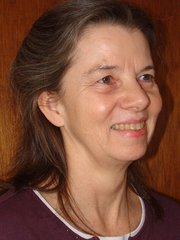 ELK CITY — In driving to Bible study before 7 a.m., I had to stop because the elk were in the road on Elk Creek and they took a little time to decide if they wanted to move or not! Yes, I did see some with antlers. Then, almost into town, a deer ran in front of me. Donna said that the elk were in the rodeo grounds in town when she came in this morning, as well. It is such a privilege to live here to see these phenomenal sights on an almost daily basis. Here is a photo of the elk at the rodeo grounds I took in 2011 (next page).
The traditional Easter egg hunt put on by the VFW Auxiliary will be at the school on March 28 at 11 a.m. Be sure and bring your baskets.
Went to an interesting county commissioners' meeting concerning the destruction of the historic Crooked River dredging area last Tuesday - no one attending was in favor of the plan, and, in fact, brought forth some interesting details. Don't forget to send your comments on the Crooked River project before April 15 to: Objection Reviewing Officer, USDA Forest Service, Northern Region, P.O. Box 7669, Missoula, MT 59807; or hand deliver or express delivery to Objection Reviewing Officer, USDA Forest Service, Northern Region, 200 East Broadway Ave., Missoula, MT 59807.
Elk City Clinic schedule: Peg Gehring, FNP will be there on Tuesday, April 21, from 10:30 a.m. to 2:30 p.m. Call 962-3267 for an appointment.
I got ahead of myself last week in listing meetings, birthdays, anniversaries so I am listing last week's celebrations this week!
Meetings: Sew Help Me Quilters on March 31.
Birthdays: Kylea Clemenhagen and Angus Clemenhagen.
Anniversaries: Jim and Vickie Guthrie.
"[I]t is a maxim, founded upon the universal experience of mankind, that no nation is to be trusted farther than it is bound by its interest; and no prudent statesman or politician will venture to depart from it." —George Washington, Letter to Henry Laurens, 1778
History: CCC – Have been in contact with Patricia Hart and Ivar Nelson from the U of I. They are conducting a research project on the CCC which will result in an on-line portal and finding guide on the University of Idaho Library website, and then they plan on writing a book on "the long term influence of the CCC on major national issues." They sent some information on the camp at Red River that I will share in the coming weeks.