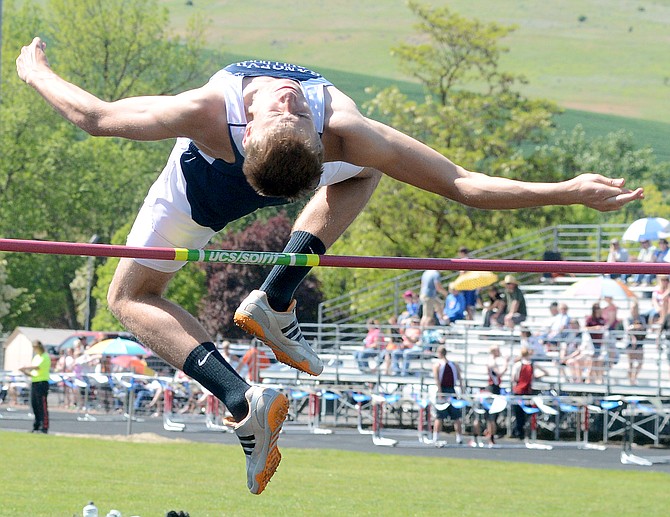 Photo by Andrew Ottoson
Grangeville's Dillon Alder cleared six feet in the high jump at the District I-II meet last Friday, May 8, and qualified to compete at the state meet to be held in Middleton this weekend, as did 40 other individual athletes out of Idaho County high schools.
AREA ATHLETES HEADED TO STATE
The 3A/2A/1A state track and field meet at Middleton High School is set to run May 15-16, with field events set to begin at 9 a.m. both days.
On the track, preliminary runs start at 3:30 p.m. Friday, with each of the three classifications competing in six events. Finals in the 3,200 and the medley relays will be run Friday.
Field events will continue through Friday afternoon and be completed Saturday morning.
The Parade of Athletes is set for 11:30 a.m. Saturday, with the remaining running finals to fol- low, starting with the girls 100 hurdles at 12:30 p.m.
Among the competitors will be qualifiers representing Idaho County high schools in 53 events. What follows is a list of these athletes, their events and qualifying marks:
1A Girls
400: Laney Uhlenkott of Prairie (P) 1:02.83. Jasmine Hernandez of Kamiah (K) 1:03.70. 800: Chaye Uptmor (P) 2:29.77. 1600: Uptmor (P) 5:58.41. 3200: Chelsea Robinson (K) 13:21.25. Uptmor (P) 13:13.45. 100 hurdles: Mykaela McWilliams (P) 16.68. 300 hurdles: McWilliams (P) 49.99. 4x200: Prairie 1:53.76. 4x400: Prairie 4:19.96. High jump: Harmony Edmondson of Clearwater Valley (CV) 4-6. Pole vault: Savannah McHone (CV) 8-6. Pole vault: McHone (CV) 13-83⁄4. Shot put: Raelynn Schlieper (CV) 31-4. Brooke Eades (K) 33-0. Discus: Eades (K) 92-91⁄2.
1A Boys
100: Cody Langston (K) 11.85. Lucas Arnzen (P) 11.87. Trey Pfefferkorn (P) 11.87. Bradley Knight (K) 11.91. 200: Pfefferkorn (CV) 23.52. Arnzen (P) 23.55. Knight (K) 23.89.
400: Arnzen (P) 52.09. Taylor McCallister (K) 53.06. Jason Lloyd (K) 54.87.
800: Cole Olsen (CV) 2:08.28. 1600: Olsen (CV) 4:52.34. 110 hurdles: Chris Pethtel (K) 16.59. Beau'D Hopkins of Salmon River (SR) 19.10. Clayton Stamper (CV) 18.37. Carson Beckman (K) 17.11. 300 hurdles: Beckman (K) 43.15. Pethtel (K) 43.04. 4x100: Kamiah 44.75. 4x200: Kamiah 1:34.85. 4x400: Kamiah 3:36.04. Medley: Kamiah 3:51.54. High jump: Josh Kolb (CV) 5-8. Jimmy Shepherd (SR) 5-8. Pole vault: Bailey Christopherson (K) 12- 0. Jimmy Shepherd (SR) 12-0. McCallister (K) 11-6. Pfefferkorn (CV) 11-6. Mika Rives (CV) 11-6. Tucker Boyd (SR) 9-6. Johnny Shepherd (SR) 8-0. Long jump: Parker Whipple (K) 19-61⁄4. Garrison Bretz (K) 17-9. Triple jump: Whipple (K) 38-9. Rives (CV) 37-101⁄4. Kolb (CV) 37-51⁄2. Shot put: Tanner Coons (CV) 38-10. Discus: Hopkins (SR) 121-7. Ryan Glimp (P) 119-8.
2A Girls
100: Hailey Sullivan 13.09. 200: Kaleala Bass 26.07. Sullivan 26.93. 400: Bass 58.99. Sullivan 1:02.98. 800: Bass 2:18.14. 4x200: Grangeville 1:52.75. Medley: Grangeville 1:55.51. High jump: Darby Finnegan 5-0. Madison Brown 4-10. Long jump: Brown 15-03⁄4. Triple jump: Brown 35-2. Discus: Courtney Cuffe 96-0.
2A Boys
100: Michael Wilson 11.95. Jake Kaschmitter 12.15. 200: Kaschmitter 23.68. 800: Diego Barela 2:04.33. 1600: Barela 4:53.65.
3200: Barela 10:43.88. 110 hurdles: Michael Stevens 15.53. Wilson 15.97. 300 hurdles: Stevens 42.87. Wilson 42.99. Medley: Grangeville 3:48.43. High jump: Dillon Alder 6-0. Long jump: Alder 19-73⁄4. Triple jump: Stevens 40-3. Alder 39-31⁄2. Shot put: Drew Lindsley 51-01⁄2. Cole Lindsley 49-7. Discus: Drew Lindsley 182-2. Cole Lindsley 151-8.
Note: All the 2A athletes listed are of Grangeville High School.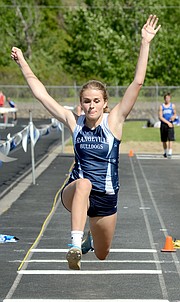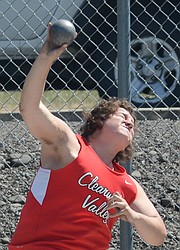 LAPWAI — For many of the dozens of area athletes who qualified to compete at the state track and field meet at Middle- ton this weekend, earning a trip to state counts as a major triumph. For the best of the best in Idaho County, qualifying is a mile-marker on the way to the apex goal: a state title.
Four of Grangeville's have had state titles in their crosshairs since the season's early days: Hailey Sullivan, Kaleala Bass, Michael Stevens and Drew Lindsley have consistently performed near the classification's peak.
Early-season results provided no relief from the winnowing state qualification meet last Saturday, May 9.
Bass booked two tri-decadal district meet records. According to the Lewiston Tribune, she cracked a 29-year time in the 800 with a 2:18.14 and followed up by tying a 31-year time in the 400 with a 59-second quarter- mile. She also ran the classification's fastest qualifier in the 200, a 26.07.
Sullivan ran a 13.09 in the 100, good for 2A's fastest seed.
Darby Finnegan will be one of five 2A girls seeded at 5-0 atop the high jump, and Madison Brown holds the high seed in the 2A girls triple jump (35-2).
One long-standing GHS school record gave way earlier this season, when Michael Stevens covered 45 feet in the triple jump. Stevens made the cut by bounding 40-3, and ran the classification's fastest qualif- ers in the 110 hurdles (15.53).
Another school record — the discus record established by Matt Hill in 1997 — was overtaken by Drew Lindsley, whose bomb of 182-2 exceeded second-seeded Logan Feasline's bid by 10 feet.
Feasline, of St. Maries, is the only athlete to have bettered Lindsley in a discus competition this season. They'll go head-to-head in the shot put as well, with Feasline's mark holding the higher seed by 10 inches over Lindsley's 51-01⁄2.
Top 2A District I-II placers also included Diego Barela (2:04.33 in the boys 800), and the GHS girls 4x200 relay (1:52.75).
Top 1A District I-II placers included the Kamiah boys 4x100 relay of Bailey Christopherson, Carson Beckman, Cody Langston and Bradley Knight, who ran a meet record 44.75. The KHS boys also won the 4x200 (1:34.85). Christopherson won the pole vault (12-0), Langston won the boys 100 (11.85) and Kamiah's Chris Pethtel won the 110 hurdles (16.59).
On the girls side, Prairie won the 4x400 (4:19.96) and Kamiah's Brooke Eades won the shot put (33-0).
Among the 1A qualifiers, Christopherson and Salmon River senior Jimmy Shepherd are both seeded at 12-0 atop the pole vault. The KHS boys medley relay (3:51.54) is top-seeded.