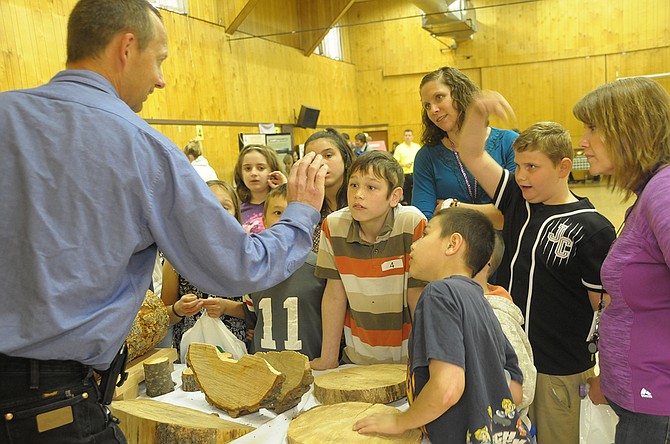 Photo by Lorie Palmer
The annual Farm and Forestry Fair in Greencreek welcomed fourth and fifth graders to the community hall to learn about a variety of farm and forest products. Here, Glenn Poxleitner shows students a ring cut from a tree.
GREENCREEK — "How old was this tree?" Idaho Forest Group's Glenn Poxleitner asked a group of kids as he held up a cut tree ring to them.
"Two? Forty?" kids yelled out.
"This tree was 92 years old," Poxleitner told the students as they said, "Wow!" and "Whoa!"
Fifth graders from throughout the area met at Greencreek Community Hall for the annual Farm and Forest Fair Tuesday and Wednesday, April 28 and 29. Nine stations were available with presenters as children rotated through.
Stations included Idaho Forest Group, Clearwater Forest, Idaho Department of Lands, Nez Perce Tribe Bio Control, the Idaho-Lewis County Cattle Association, Idaho Farm Bureau-Dairy, Idaho Farm Bureau-Wheat, Grain-Max Theater and 4-H. The fair is sponsored by North Central Idaho University of Idaho Extension.
Children were able to grind their own wheat into flour, were served pancakes, chocolate milk and beef sticks, milk a faux cow, watch a short movie and received a bag of goodies to take home.
"I appreciate all the presenters who helped make the event a success," said Idaho County 4-H program coordinator Susie Heckman.