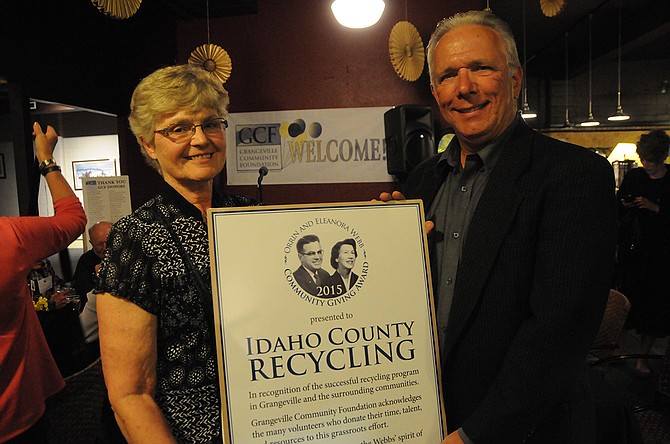 Photo by Lorie Palmer
Idaho County Recycling volunteer Janie Fluharty accepts the 2015 Orrin and Eleanora Webb Community Giving Award on behalf of the organization from Grangeville Community Foundation President John Bennett. The award event was held at The Gallery in Grangeville May 7.
GRANGEVILLE – "I feel honored to speak on behalf of Idaho County Recycling," said Janie Fluharty Thursday night, May 7, at the annual Grangeville Community Foundation (GCF) event.
Idaho County Recycling was chosen for the 2015 Orrin and Eleanora Webb Community Giving Award.
"The Webbs were an example of how to invest in a community and they left an incredible legacy that can be seen throughout Grangeville," said GCF's Mary Jahn who spoke of the more than $6 million the Webbs left to the community of Grangeville.
Fluharty spoke to all the volunteers who came forward in 2009 to start a sustainable, no-cost-to-the-county, permanent recycling solution.
"Mark Armstrong and Lewis-Clark Recyclers were the backbone of what we started, but many, many volunteers stepped forward to donate land, give money, and most of all, hours and hours of time," Fluharty said.
The county recycling program now has about 180 volunteers, takes in about 60,000 pounds a month and runs year-round. Fluharty thanked the many local businesses, individuals and organizations who have helped make the program a success.
"Without all of you here in the community working toward this, it wouldn't have happened, so thank you," she said.
GCF donor Dave Wimer spoke about his philosophy of philanthropy, which was instilled in him, in part, by the late Carmelita Spencer.
Wimer worked for Spencer Ranch for eight years during high school and college and recalled his friendship with Carm.
"She lived philanthropy – not just in financial ways, but also through her time, her persuasion, her passions and in the way she loved and invested in this community," he said. "Here I was taking Philanthropy and Grangeville History 101 and I didn't even know I was in class."
Wimer urged everyone to give in any way they can — "because there are different ways we can all give and make a difference," he said
An "on-the-spot" grant drawing was made with Grangeville Elementary Middle School student River Phillips' name being drawn. He chose for the $250 grant to go to the GEMS art program. His father, Patrick, is the art teacher. River has also been a volunteer at the recycling center in Grangeville for the past two years.
"We started with a goal of $100,000 in the Idaho Community Foundation, which seemed like a lot," said president John Bennett. "We raised more than $120,000 in this community and have a $160,000 endowment at ICF."
GCF will host its third grant cycle giving event this fall, where it will give out $5,000 in grants.
For information log onto www.idcomfdn,org/gcf or contact a board member: Bennett at 983-3096; Jahn at 983-5962; Andrea Solberg at 983-2475; or Jane Spencer at 983-2254.