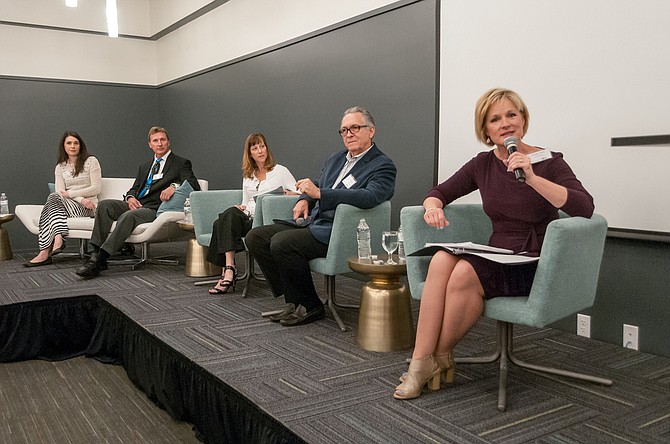 BOISE — Telepsychiatry is an important tool in expanding access to mental health and substance use care in remote areas of Idaho and plays a key role in enhancing the state's behavioral health system, according to health and technology experts who spoke at a panel discussion April 29. Among panelists was Grangeville's Jennifer Griffis.
The panel was co-hosted by The CORE and Optum Idaho. The CORE is a non-profit organization focused on cultivating the MedTech ecosystem in Idaho. Optum Idaho manages the state's outpatient Medicaid behavioral health services.
Telepsychiatry uses secure video-conferencing equipment to enable people to connect with behavioral health specialists who are located elsewhere.
"Out of 44 counties in Idaho, only 16 have a psychiatrist available to serve local residents," said panelist Stacey Carson, vice president of operations at the Idaho Hospital Association. "If a hospital admission is needed, it is vitally important that upon discharge follow-up care is provided. If that care can be provided in the patient's community using telepsychiatry, the chance of re-hospitalization is decreased."
The diverse group of panelists also agreed that Idaho has taken a vital first step with the implementation of the Telehealth Access Act, to developing a platform that will help improve care.
Griffis, parent advocate for behavioral health issues at the regional and state levels, described the obstacles that exist for those living in rural areas.
"Many people living in rural areas of Idaho don't have access to in-person interaction with psychiatric specialists. My family has struggled for years with the long wait times and long travel distances that are common in rural Idaho mental health care. Telepsychiatry services are available in some parts of the state and show great promise," said Griffis.
The panelists wrapped up the discussion by emphasizing the need to continue the dialogue on how to expand access to such critical behavioral health care services. Audience members were asked to stay engaged and be active participants in helping to improve Idaho's health care system.