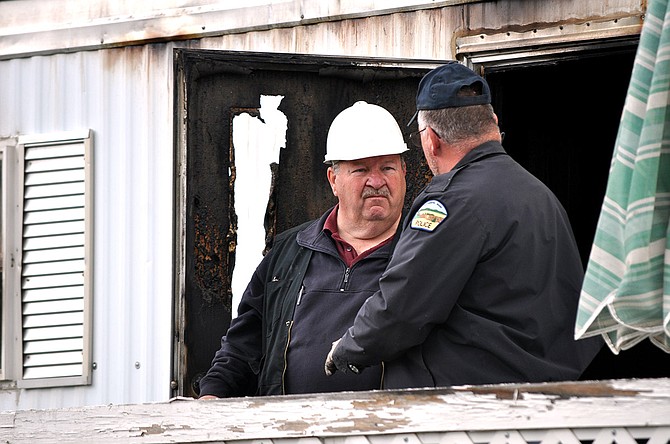 Photo by David Rauzi
State Deputy Fire Marshal Bill Steele points to charred trailer home remains last Wednesday, May 13, during an investigative walk through with CPD Chief Terry Cochran (not pictured).
COTTONWOOD – Following inquiry on last week's fatal house fire in Cottonwood, investigators say the owner, Robert George Jull, 72, intentionally set his trailer home on fire just prior to shooting himself.
"Cause of death was a self-inflicted gunshot wound to the head," said Chief Terry Cochran, Cottonwood Police Department. Just prior to this, Jull is believed to have poured an undetermined accelerant throughout the house that he subsequently lit on fire.
Samples of the accelerant have been sent to the state lab for determination, according to Cochran, and a blood toxicology study will also be conducted for the presence of drugs or alcohol.
Apart from lab results, investigation is basically completed on last Tuesday's May 12 trailer home fire incident in Cottonwood.
"It was fully engulfed," said Cottonwood Fire Chief Roy Uhlenkott, when 18 firefighters, along with two city and two rural trucks, responded to a 7:40 p.m. 911 call to the involved residence located at the School and Bash streets intersection. Crews attempted to fight the head of the fire in the middle of the trailer, coming from the left side of the home and working in, according to Uhlenkott.
"There was a large amount of belongings inside; it was a lot of stuff to get out," he said, that did hamper firefighters' progress inside the structure.
Responders suspected Jull may still be in the home, and after making entry, firefighters searched the residence and found the victim's body inside. After extinguishing the fire and removing smoke from the building, CPD and Idaho County Sheriff deputies photographed the inside of the residence and removed Jull's body that was then transported to Uhlorn Funeral Home.
During firefighting efforts, crews discovered what turned out to be 10 apple box sized cases of ammunition, and as a result, the Idaho State Fire Marshal's Office was contacted for assistance, as well as response by Mountain Home Air Force Base Explosive Ordinance Disposal (EOD) personnel.
Due to public safety concerns, Cochran requested the EOD team destroy the ammunition, along with other collector-quality ordinance – no live explosives — inside the residence. This decision was made in cooperation with the relative's wishes, and in following their request, he said. Items were destroyed at the Keuterville Road rock pit using C4 explosives and by incineration.
"The fire crew did a very efficient job; it was a great response time," commented Chief Uhlenkott, knocking down the trailer home blaze within a few minutes. Chief Cochran echoed this compliment and added, "It's incredible that it's still standing," as trailer fires burn fast with the structure on the ground within 15 minutes.