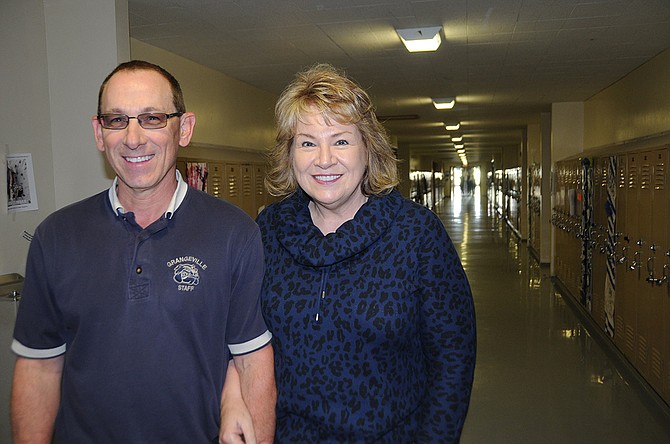 Photo by Lorie Palmer
Les and Faith Loeber took a minute for a photo in the Grangeville High School hallway near Les' classroom prior to the state track tournament May 13. "I'm doing okay with the idea of retiring," Les said. "I guess I've never been one to look back too much and think about missing things, but more one to look forward and say, 'Hey! Look at all the great things waiting for us!"
GRANGEVILLE — Landing in Grangeville may have been a bit of a fluke for Les Loeber, but staying wasn't.
Born in Kennewick, Wash., and raised on a wheat ranch in Connell, Wash., Loeber went on to study at Northwest Nazarene College (now university) in Nampa.
He began as an accounting major and even tried psychology for a semester before moving into familiar territory: education.
"My mom was a teacher and so as I went through the process, I thought I would perhaps teach junior high math," Loeber said. He got his endorsement for grades seven through 12.
During his junior year, he met and married Faith Mingus, a fellow NNU student who was from Denver.
When he was getting ready to graduate in 1981, a friend led him to a teaching position interview in Timberline.
"On the way back we came through Grangeville and thought it was beautiful," he recalled. "It had been snowy and cold in Pierce and it was a relief to see the prairie."
The couple ate breakfast at the Crossroads Restaurant and decided to stop by Grangeville Joint School District 241's office and inquire about any open positions.
"I walked in to talk to the secretary and asked if there were any positions open in the district and she said no, but there was a guy sitting over at a typewriter in the corner and he said, 'wait a minute. You're a math teacher?'" Loeber recalled.
That man was Al Arnzen who was currently the principal at Grangeville High School and was transitioning from the principal position, and just happened to have stopped by the district office to type something.
"He said, 'it's not official yet, but I know a position is opening up,'" Loeber said. "He said he would send me the information when it opened. I interviewed that June and I was offered the job on the spot."
That was 34 years ago and Loeber says he has "loved it."
"There have been so many benefits to begin here," he said. He and Faith lived in town in an apartment for a short time, then moved to Cove Road in Mt. Idaho where they have lived ever since. It was there they raised their two children, Landon and Kendra.
Loeber said he is a "pretty traditional" teacher and has taught everything from remedial to upper level math throughout the years. The biggest change for him has been the advances of computer technology.
"Even though I still believe students need to know how to do the work by writing it out and figuring it out in their head, the computer and Internet have offered a great deal of supplemental materials," he smiled. "For me, it's also been great to be able to type something up and save it, print it, copy it. No mimeograph or white out."
During his 30-plus years at GHS, Loeber spent much of that time coaching. He was the freshman basketball coach for seven years and spent 21 years on the football field as an assistant. He coached cross-country for 10 years and this is his 15th year as a track coach.
"This has been the greatest opportunity that has allowed me to get to know kids in a very different way than simply in the classroom alone," he said. "I really thank Jim Suhr [former GHS coach and athletic director] who helped me learn the ropes and had a big influence on my coaching philosophy."
Loeber said he has appreciated the students, teachers and parents.
"This has been a great community to teach in and be a part of," he said. "I believe kids leave here [GHS] prepared for college and what they will face in the world."
Loeber has taught Sunday School at the Grangeville Church of the Nazarene for 28 years as well as been involved in a variety of other ministries and leadership positions at the church, including as Sunday School superintendent, in missions and as a member of the choir.
Currently, the Loeber's home on Cove Road is for sale, along with that of Lucy Loeber, Les' mother. The properties adjoin and they hope to sell this summer.
"I know it's all in God's timing, but it would be nice to not have to do all the work on the property this summer – if it could just sell before that all happens," he laughed.
The Loeber family plans to move to the Meridian area (between Nampa and Boise) where they can be closer to their children and 2-year-old grandson, Eli.
"I have to admit, I have been getting kind of nostalgic about everything and all the 'lasts,'" admitted Faith, who recently joined Les for a photo as he was on his way to the state track tournament. "I will miss the concerts, the games, everything. I hope people come and visit us!"
Although Loeber said he will most miss the kids and the friends he has made here, he does look forward to sleeping in.
"At some point I might do some tutoring and I wouldn't mind taking some cooking classes," he said. "Other than that, not to have to get up with the alarm will be a blessing."