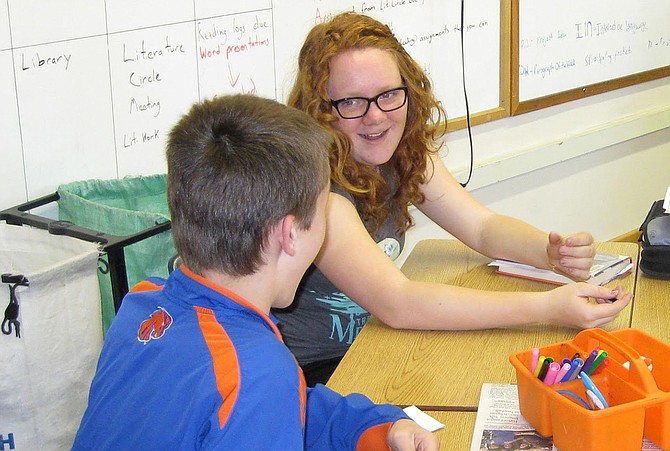 GRANGEVILLE — Reading class at Grangeville Elementary Middle School isn't just about reading a book and answering comprehension questions. Students in Mr. Blackwell's sixth and seventh grade reading classes participate in small group literature circles to apply and practice all the skills they have been learning this school year.

"Literature circles are a lot like a book club meeting, only much more structured," Blackwell said. "Most simply, students are placed into groups and assigned a book to read."
It all starts when students get to "bid" on their choice of book. Blackwell said allowing for student choice increases the chances that the student will be interested and invested in what they are reading, which is half the battle.
"It was fun having a choice and knowing what kinds of books there were," one sixth-grade student stated about the opportunity to bid and have choice in a book. Currently, the seventh graders are reading World War II themed books that go well with Holocaust Remembrance Day, which takes place this month, while the sixth graders are reading survival and adventure books.

Each week the group meets to discuss the assigned reading for the week. However, that is where simplicity ends. Each group member has a specific role during the week that they are responsible for. For example, one member is in charge of creating open ended discussion questions that require the students to reference their text to answer, another member is in charge of finding and defining tricky vocabulary words, another student identifies internal character traits using text evidence to support their inferences, and yet another is in charge of identifying and sharing passages that they think are of particular importance in the week's reading. Literature circle roles rotate each week so each student has an opportunity to practice a specific set of skills.

"The aim is to get students actively engaged in reading activities. Literature circles encourage students to think critically about what they are reading and share their insights with others in their group," Blackwell said. "The goal is to create constructive exchanges that provide a deeper understanding of the text. This takes good advantage of the 'power of the peer' in middle school and allows readers to gain skills from one another."
Students are required to discuss certain elements of the text while they practice effective speaking and listening skills; skills required for students to be successful throughout life. Not every person who reads a book will take away the same meaning. Students have an opportunity to increase their comprehension of what they are reading and reframe their thinking as the book progresses. Blackwell said the hope is that the skills used during group meetings will carry over and help foster their reading development across all content areas.