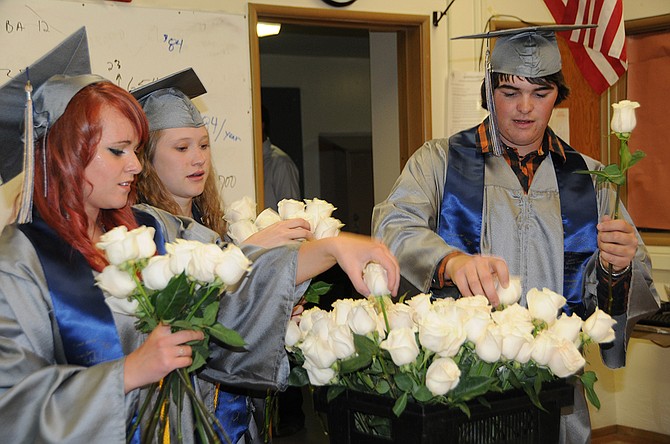 GRANGEVILLE – "In full disclosure, I saw the list of potential commencement speakers and, in spite of the fact I was nestled comfortably at the bottom of the list, here I am," joked Grangeville High School teacher Matt Elven at the class of 2015 graduation May 22.
"This is my third commencement address," he admitted. "Of course, this one is slightly different … I'm not in my parents' basement and I'm speaking to people rather than Star Wars figures."
Elven's address was entitled "Believe," and he told the 49 graduating seniors that they are "Idaho's greatest resource."
"I know we've talked about air and water and mountains and trees being the state's resources, but make no mistake – it's you," he said.
Elven let the students know they are fortunate to have grown up in a community that "puts the whole above the self; a community who believes in you," he said.
"You live in a place where year after year people want to come home – and not just to throw eggs at each other," he said. "This gym is filled with people who are here for you. That is huge! Don't believe in the world – the world will pass away. Continue to believe in those who love you."
Valedictorian Kristin Kaschmitter read the story "When?" to her class and the filled gymnasium and encouraged her classmates to follow their dreams.
"We can look at this as the end of a journey or the beginning of an exciting adventure," she said. "Don't be afraid to make mistakes."
"If you know me, you know I'm not the best public speaker," said salutatorian Kaleala Bass. "I do want to thank my Grandpa Ralph for instilling in me my love of animals and for teaching me that sometimes being gentle is our greatest power."