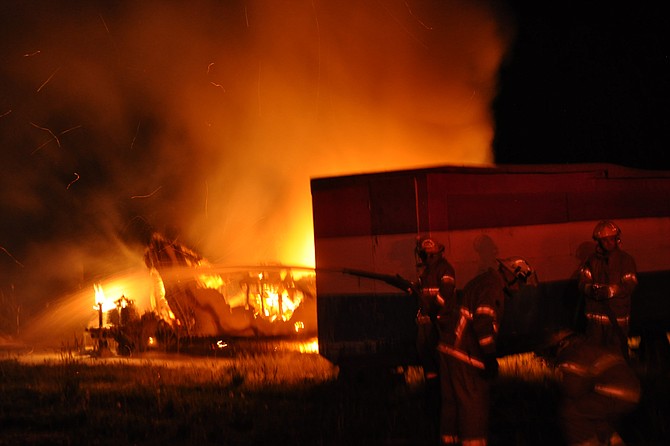 Photo by David Rauzi
Grangeville firefighters took shelter behind a structure as they battled the early morning Wednesday, May 27, trailer fire on North State Street. Safety was the concern due to propane tanks on the trailer.
Photo Gallery
GPD investigating fire, burglaries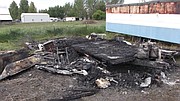 GRANGEVILLE — Investigators are actively working an early morning trailer fire incident that may be related to additional crimes at this location and in the area.
Details at this point are fire destroyed a camp trailer at North State Street Storage early morning Wednesday, May 27, and in addition two RVs and one storage unit were broken into and an attempt made on a second unit, according to the Grangeville Police Department.
Still under investigation is whether this may be related to window break incidents GPD has been investigating the past two days.
GPD officers are currently working leads provided as part of the investigation. Information on the trailer owner, as well as the extent of the burglaries is unavailable as police attempt to track down owners.
Multiple 911 calls came in starting at 2:10 a.m. from residents reporting seeing flames at the Adkinson storage area on North State Street, near the intersection with the truck route and adjacent to Mountain View Mobile Home and RV Park. GPD and Idaho County Sheriff's Office personnel responded to the scene, along with crews and engines from Grangeville Volunteer Fire Department.
GPD asks the public for information that could assist its investigation. Call 983-1100.
More like this story