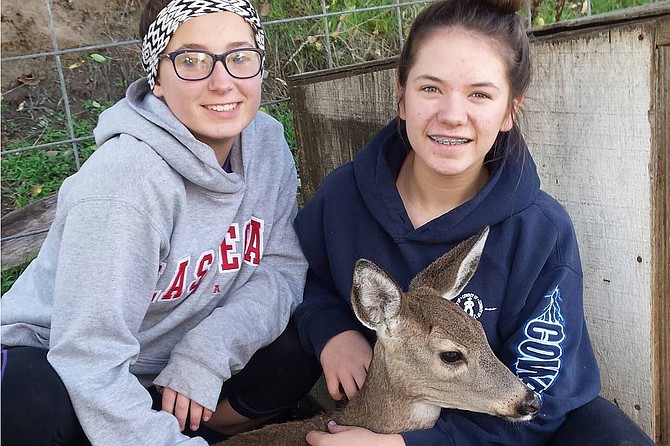 SLATE CREEK — What started out as a leisurely afternoon horseback ride for two local girls turned into more of an adventure than they had bargained for.
Grangeville Elementary Middle School eighth graders Paige Layman of Grangeville and Cassie Chandler of Slate Creek set out from Chandler's home on their horses and a ways from home heard a strange noise. The Chandler's dog, Si, was also distracted and looking into the bushes.
"Paige was jabbering and I said, 'Be quiet! We need to listen!'" Chandler, 14, said. The girls heard what sounded like a struggle. They got off their horses and a little bit from their lane of travel found the source of the noise.
"It was a deer," said Layman, 13. "Stuck in the fence."
The girls discovered a young buck had caught his hind leg in smooth fencing. Chandler held the deer and tried to free him, but to no avail.
"He was scared but he didn't struggle," she said. "I told Paige, 'I have to go to my grandpa's and get something to cut the fence. Stay here with the deer!'"
"I said, 'no way! The wolves will get me!" laughed Layman.
They decided it had to be done so Layman said she would stay and cradle the deer if Si stayed with her.
"I ran to my grandpa's — it wasn't too far and it was all downhill. I got there fast but he wasn't there. I got some cutters from his shop," Chandler recalled. "I ran back – but it was all uphill. It seemed to take forever."
The girls said they gently argued over who would cut the fence — by now imbedded in the deer's leg — and finally said it just "had to be done," so Chandler did it, freeing the young animal.
"It was 5:30 and getting dark," Layman said.
"We were supposed to be back by 5," added Chandler.
It was then that Chandler's mom, Shandra, drove up to find the girls. By then they also had her grandfather there, who had only left his house to get the mail.
"My mom said, 'Oh my gosh! What are we going to do with that?'" Chandler grinned. "I said, 'Mom, we got you another critter!'"
Shandra tied a coat on the deer's leg, which was bleeding, and she and her father-in-law drove the deer to the Chandler home. The girls jumped on their horses and "galloped all the way home," they said.
The deer, who they named "Bucky," is now in a large dog kennel area where they feed and water him and keep him warm.
"We called Fish and Game right away," Chandler said.
"They said we did a good thing and were proud of us for helping," Layman added.
Chandler said she visits the deer often and tries to help him walk, but so far he is not using his leg. Her mom has been bandaging the wounds and the "whole family likes him," Chandler smiled.
Right now, they are not sure what will happen to the deer. One thing is for sure: He will have a fighting chance thanks to the kindness of two young ladies.