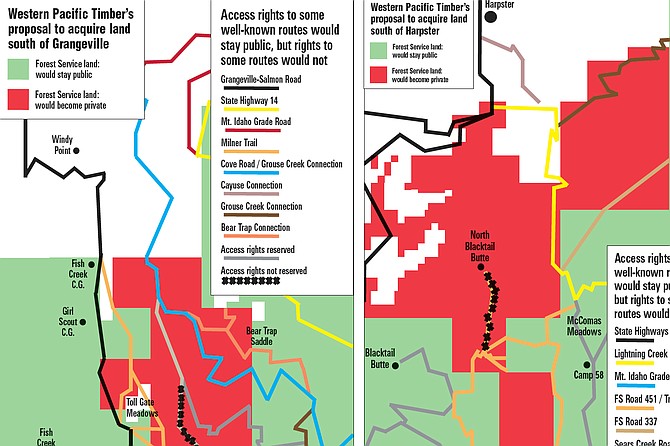 Photo by Andrew Ottoson
These drawings show some of the land Western Pacific Timber would stand to acquire from the Forest Service under a proposal the company presented to Sen. Jim Risch last year. These drawings do not show all of the roads in the areas WPT would acquire. They do show some routes — roads and trails — to which the Forest Service would reserve access rights — and mark a couple of the routes to which the Forest Service would not reserve public access rights. The Free Press picked which routes to show based on two sources: maps WPT provided with its proposal, and input from locals who have long opposed the trade. The documents WPT provided can be downloaded at goo.gl/ovUGAJ.
Gov. Butch Otter is set to attend a meeting about the Upper Lochsa Land Exchange next week in Grangeville, according to Sen. Jim Risch's office, which announced the meeting last month.
The meeting will be held at 6 p.m. Tuesday, Nov. 24, at the GEMS gym.
The meeting is scheduled to allow 60 minutes for comments from citizens, who will be afforded the chance to talk for two minutes apiece.
Risch will accept written comments through Dec. 11.
The purpose of the meeting, Risch's office noted, is for the senator "to hear from Idahoans and other concerned citizens regarding a possible land exchange between the U.S. Forest Service and Western Pacific Timber."
Risch's office noted the senator "has agreed to become involved with this issue. He has not taken a position on the land exchange. He will attend the meeting with no preconceived outcomes and will be there to listen."
WPT's proposal is online at idahocountyfreepress.com/documents, goo.gl/ovUGAJ.
The Free Press published a brief review of the history of the Lochsa Land Exchange last week, which can be found online at http://www.idahocountyfreepress.com/news/2015/nov/12/hear-idahoans-lochsa-swap.