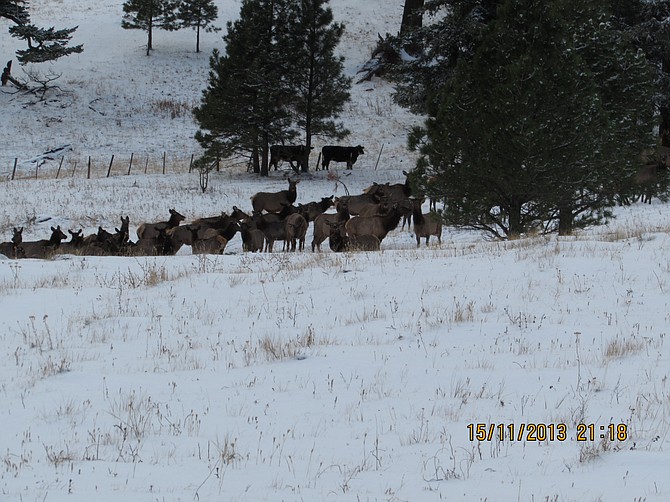 By Shelley Neal
Idaho County Free Press
"Ranchers and hunters can be great allies, as well as great antagonists," said Roy Kinner, Grangeville Senior Conservation Officer.
Hunting season is upon us. While many ranchers enjoy hunting themselves, this time of year can be viewed as an opportunity or detrimental.

Ranching benefits hunting, providing critical wildlife habitat and natural resources in large tracts of land; hunting, on the other hand, benefits ranching economically, and when properly done, maintains a healthy, strong game population. Ranchers have proven for generations they are good stewards of the range; often times elk and deer are seen grazing amongst domestic livestock.
Idaho County landowners provide habitat for whitetail deer, mule deer, elk, bear, cougar, and game birds. Sometimes private property is leased to an outfitter or individual party for hunting access.
Having large game animals on one's ranch can be quite rewarding in non-monetary ways.
In 2012, the Gill Ranch hosted a Dream Hunt for a young man battling high risk medulloblastoma (brain cancer). This successful hunt was made possible through the Outdoor Dream Foundation, a non-profit organization started in 2004 that grants outdoor adventures to children who have been diagnosed with terminal or life-threatening illnesses. Volunteers from the Lewis and Clark Chapter of the Rocky Mountain Elk Foundation guided Jake Stoneking, from West Linn, Ore., along with his dad, through this adventurous outing. Jake went on to graduate from high school before losing his battle on Oct. 16, 2014, humbling those who met him.

Kinner has seen a lot of different scenarios in his 25-plus year career with Idaho Fish and Game.
"Hunting groups are a varied lot, some specialized, some widespread with their ideals," Kinner continued. "Hunters can turn ranchers against hunting and hunters quickly."
Ranchers are either loved or hated by sportsmen. If allowed to hunt several acres of private land, the landowner is awesome; but if turned away, the landowner is a no-good s.o.b.
The Idaho Fish and Game does offer a Landowner Appreciation Program (LAP). "Only property that is used by, and provides significant habitat values for deer, elk, pronghorn or black bear qualifies for the Landowner Appreciation Program. Landowners may receive a tag only for species that use the property."
To qualify for LAP tags, landowners must register their land. Property must be at least 640 acres of land in one controlled hunt area, excluding any government lands. An additional tag may be issued to a landowner for eligible property of 5,000 acres or more.
The Landowner Appreciation Program, set up to do what the name implies, has gotten out of balance. Neighbors are competing against neighbors in a draw. These tags are small compensation to a rancher for feed, fence repair, hunting trespass problems, and other issues involved when large elk herds habitat on deeded ground.
The growing number of ranchette developments, wolf population increases, lack of logging, and thousands of acres of public lands closed to grazing, all cause the displacement and declination of wildlife species. Ranchers continually feel this pressure.
The more hunting seasons and tags the Fish and Game issue, the more impact ranchers are faced with. Trespassing has always been a problem with the responsibility falling on the rancher to post his land.
Idaho Fish and Game's trespass law reads: "No person may enter private land to hunt, fish, or trap without permission if the land is: Cultivated; OR posted with 'No Trespassing' or similar signage every 660 feet (1/8th mile) or at all reasonable access points; OR Posted with 100 square inches of high visibility orange paint every 660 feet or all reasonable access points; OR Posted with high visibility orange paint on the top 18 inches of a metal fence post every 660 feet or all reasonable access points; OR Posted with signs where a public road enters and leaves property through or along which the public has a right-of-way."
Long-standing ranches generally have some public ground fenced in with the private ground. Often small segments of Forest Service land, state school sections, or Bureau of Land Management chunks lie amidst several hundred acres of private ground. This checkerboard pattern makes it extremely hard to post or patrol.
If private property is not correctly posted, there is no recourse to establish a trespass fine. Posting all private property boundaries in this rugged canyon country is quite difficult. Idaho's neighboring states place the burden on the hunter to know whose land they are hunting on.
Disrespectful hunters ruin hunts for others.
"It was the smart aleck attitude that made me mad and led me to call the conservation officer," said Melvin Gill, longtime Lucile rancher after confronting local kids taking his fence down to retrieve their elk kill.
To maintain a good landowner-sportsman relationship, sportsmen need to appreciate and respect landowners and their private property.
Shelley Neal is a resident of Lucile. Garrett.neal@verizon.net