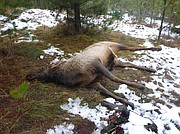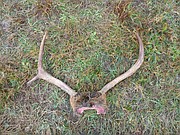 Three deer – all bucks – were shot and wasted in the Joseph Plains during the last week, and details of an unrelated elk poaching came to light on Monday, Nov. 16.
On the morning of Nov. 9, someone shot and did not attempt to retrieve a distinctive spike bull elk in the area of Little Elk Creek, near Elk City. A landowner found the bull and reported it to Idaho Fish and Game.
"The bull was a large spike bull that had been running with the herd that hangs around Elk City and some may have seen the kicker spike off one antler that made him unique," senior conservation officer Roy Kinner noted. "The bull was shot one time, ran some distance into the timber and died without anyone trying to retrieve it."
The bull was shot from the Main Elk Creek Road near several houses. Landowners heard the shot but didn't realize the people responsible were shooting at an elk. Elk season in that area – Unit 15 – closed on Oct. 24. Anyone having information regarding the poaching of the bull can call the Citizens Against Poaching (CAP) Hotline at 1-800-632-5999 or contact Kinner at 983-8443.
"This type of poaching runs rampant at this time of year," Kinner said. "It's a shame that some folks don't care about our resources enough to obey the laws. They shoot through people's pastures, or fire toward residences where someone could be hurt or killed. This type of incident gives all real sportsmen a bad taste in their mouths. Rewards are offered through CAP for information leading to the arrest and conviction of those responsible for these egregious acts."