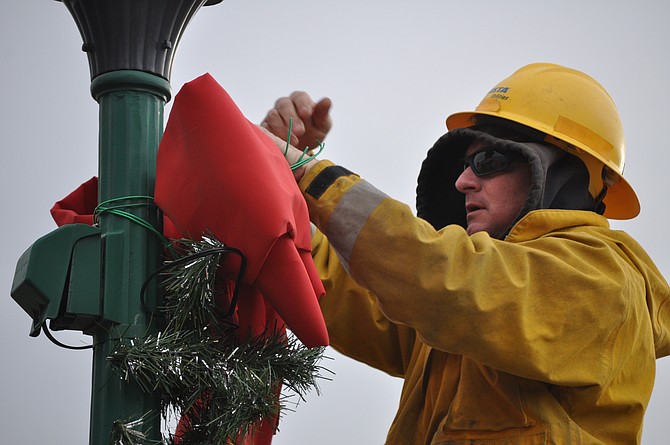 Photo by David Rauzi
An Avista crew was assisting volunteers Friday, Nov. 13, in putting up 50 new lighted Christmas garlands on lampposts along Grangeville's Main Street.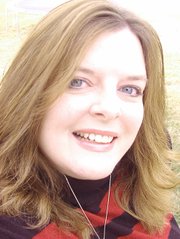 Join neighbors and friends on Thanksgiving Day at the Silver Dollar in White Bird. Bring a dish to share and visit with friends.
•
The Hilltop Café in Grangeville will host a free Thanksgiving dinner for anyone who is without family or has nowhere to go. This is set for Thanksgiving Day, Nov. 26, with serving of a traditional Thanksgiving dinner, serving beginning at 11 a.m. Donations of food will be collected for the Camas Prairie Food Bank and any cash donations will be placed on the food bank's account at Cash and Carry Market.
•
The Hangout restaurant in Cottonwood will offer its free Thanksgiving dinner on Thanksgiving Day, Thursday, Nov. 26, 11 a.m. to 2 p.m., 603 Front Street. Everyone is invited to share a meal of turkey, ham, dressing, green beans, mashed potatoes, gravy, cranberry sauce, rolls, pumpkin pie and drinks.
•
The Christmas Open House at Idaho Banana Co. and Two Ladies Antiques, 1120 So. Main Street, Riggins, will be Friday, Nov. 27, 6 to 8 p.m., a free evening of fun for everyone. There will be wine and beer tasting, food and music.
•
Nov. 28th is "Small Business Saturday Sale" at the Canyon House in White Bird. Stop in for a variety of items.
•
Also check out Purses Galore and More in Cottonwood for its Black Friday sale of savings up to 50 percent. Stop by the old Simon Building on King Street. Call 816-8392.
•
Irwin Drug will have a variety of items on sale Friday, Nov. 27, 7 a.m. to 6 p.m., and Saturday, Nov. 28, 9 a.m. to 5 p.m.
•
This in from Dori Dixon, Melinda Hall, Karen Cox and MaryAnn Davidson: "Animal Ark Lost and Found would like to thank everyone who attended the annual Pets Pictures with Santa last Saturday as well as those who donated money to help out with the many expenses. We also want to thank Lindsley's Green Acres Nursery for having the event there, Toni Baker for taking the pictures, Robert at One Hour Photo for processing them, Sue at The Gallery for matting the pictures, Primeland for donating doggy treats for after the pics and, of course, Mr. and Mrs. Santa. Animal Ark thanks you so much."
•
Ladies Night Out is set for CHS Primeland, 1001 North A Street, Grangeville, Thursday, Dec. 3, 6-8 p.m. Stop in for deals and door prizes as well as food and beverages.
•
Kooskia Old Opera House Old-Fashioned Christmas and Variety Show is set for Friday, Dec. 18, and Saturday, Dec. 19, 7:30 p.m. each evening. Tickets, at $12 per person, can be reserved by calling Graves GreenThumb Nursery at 926-0094.
•
I had the best potato soup at Oscar's the other night, and a nice surprise to boot is Laurie Rockwell is back managing the restaurant. Stop in and say hi and have a bite to eat.
•
Thanks to the guys and gals at Les Schwab who are always so nice and helpful!