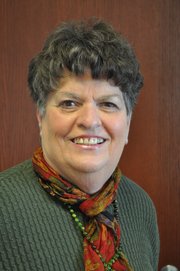 KOOSKIA / KAMIAH — Last week someone broke into the facility of the Emergency Feeding Outreach program in Kamiah and stole most of their food. This food was destined to go to the members of the community who are in need. If you can find it in your heart to dig deep and donate food and/or money to this worthy organization, please do. EFO is celebrating their 42nd anniversary and your continued support will ensure that they continue to do good work. If you would like to apply for the Christmas Food Basket Program call the CAP office, 935-2412, to attain an application. The deadline for applying is Dec. 1. If you can help, call Janet at 935-0245, or mail check to EFO P.O. Box 5, Kamiah, ID 83536, or drop food by the Presbyterian Church on 7th Street on Tuesday or Friday. If you have any information about who did this dastardly thing contact the Kamiah Marshal's Office at 935-0467.
Dec. 2 is the last Harpster bingo, after 17 years they have decided to not have the monthly event. We all hope they will reconsider, but we understand they need volunteers and people who enjoy playing bingo in order to make it worthwhile to continue.
Umpqua Bank in Kooskia is now accepting applications for the Tree of Sharing. All applicants must live in the Kooskia, Stites and Clearwater areas and be younger than 18. All applications for the sharing tree must be turned in no later than Dec. 11. Gifts for the sharing tree must be turned in to the bank no later than Dec. 16.
The bank is also accepting donations for the local Clearwater Valley Food Bank. Bring in non-perishable items by the bank on Main Street in Kooskia.
Kamiah will have their Christmas Light Parade on Friday, Dec. 4, beginning at 6 pm. The Children's Flashlight Serpentine Parade will precede the Light Parade and Santa will be present at the Chamber of Commerce Welcome Center to visit with the children. The event is sponsored by the Kamiah Volunteer Fire Department and the Chamber of Commerce.
Kooskia will hold their tree lighting ceremony on Saturday, Dec. 5 at 4 p.m. and Santa will be present.
The U.S. Marine Corps Reserve "Toys for Tots" program is currently soliciting applications and donations for their popular program of giving toys to area children. If you have a new unwrapped toy or a donation to purchase more toys, contact Bill West at 935-0179 for information. The 83536 zip code residents can pick up an application at the CAP office in Kamiah and those living in Kooskia, Stites or Harpster areas may pick up an application at the Kooskia City Hall. Toys will be distributed on Saturday, Dec. 19, at the VFW Post in Kamiah, from noon until 5 p.m. Photo ID is required.
What's Happening: Schedule a mammogram at the Kamiah Clinic, 935-2585. Mammograms are by appointment and are done the second Wednesday of each month.
In Kooskia, recycle Saturdays only from 10 a.m. to noon. The Recycle Center is located across the bridge where the old pole yard was. Be sure to separate items.
The Valley View Church of the Nazarene in Kamiah is hosting a Community Night every Wednesday. Meals will be served at 5:30 p.m. followed by activities in different age groups. Public is invited to attend.
Thursday there is free lunch served at the Kamiah Community Presbyterian Church located on the corner of 7th and Hill Street in Kamiah, from 11 a.m. until 12:30 p.m. If you know or make news give me a call.