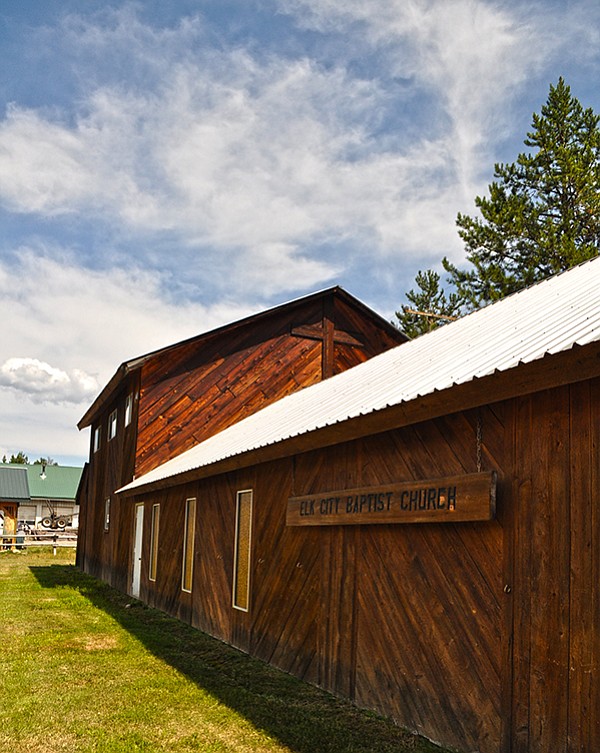 Photo by David Rauzi
Elk City View Pictured here is a summer's view of the Elk City Baptist Church.
Information sought by Nov. 1 for upcoming Christmas publication
Does your church, school or organization have an upcoming holiday event? Send all events happening Thanksgiving through New Year's Day to lpalmer@idahocountyfreepress.com or call 983-1200 and ask for Lorie. Events will be included in the "Four Weeks of Christmas" special section.
Movie night set for Nazarene church
GRANGEVILLE — Friday, Oct. 9, 6 p.m., the Grangeville Nazarene Church is having a family movie night. They will be showing Disney's new "Cinderella." Bring a potluck dish to share. A popcorn and candy "bar" will be provided.
The church is located at 515 W. N. 2nd Street. Call 983-0552 and leave a message to RSVP so enough chairs and food can be provided. All are welcome.
Women's Bible Study meets Friday mornings
GRANGEVILLE — A new women's Bible study on "How to Read and Apply the Bible" meets Fridays, 9:30 to 11 a.m., at Trinity Lutheran Church, 210 N. Mill Street in Grangeville. All ladies are welcome to participate in this discussion of foundational principles of Christianity, including how the influences of post-modern philosophies such as relativism, pietism, and rationalism have affected the church. The study will be led by Lorraine Roach who received her masters in theology and deaconess studies from Concordia Theological Seminary.
Contact Lorraine at 983-9648, or deaconess@grangevilletrinitylutheran.org.
Kamiah Nazarene hosts dinner each Wednesday
KAMIAH — The Valley View Church of the Nazarene in Kamiah is hosting a Community Night every Wednesday. Meals will be served at 5:30 p.m. followed by activities in different age groups. The public is invited to attend. Call 935-2343.
Presbyterian church serves free lunch weekly
KAMIAH — Thursday there is free lunch served by the Emergency Feeding Outreach (EFO) at the Kamiah Community Presbyterian Church located on the corner of 7th and Hill Street in Kamiah, from 11 a.m. until 12:30 p.m., Thursday, Oct. 8.
The lunch this month is sponsored by Relaxed Homecare and will consist of barbecued chicken, baked potatoes, string beans, green salad, rolls, punch and coffee as well as ice cream and cake.
Music will be by Judy Borgelt and the special speaker will be Pastor Luann Howard who will talk about the year's fires and how the local and national crews and community members came together. There will also be a drawing for some small prizes.
Call Darlene at 213-703-1344 or 935-0211.
ALACCA ladies retreat set for Oct. 16-18
HARPSTER – ALACCA will host a ladies retreat Friday, Oct. 16, 5 p.m., through Sunday, Oct. 18, 1 p.m.
The theme is "Running the Race" and will start with 4 p.m. registration then dinner at 6:30 p.m. The weekend will conclude after lunch on Sunday.
This year's speaker is Sheryl Lorenzen from Cottage Grove, Ore. A Christian since age 5, Lorenzen said she took her relationship with God for granted until becoming very ill in 2002. Through her illness, she said the Lord drew her closer to Himself and showed her how to be healthier in body, mind and spirit. She shares her heartfelt insights while speaking at Ladies' Retreats, special church events, and mentoring women in spiritual and health issues.
The weekend includes Bible studies, worship, small groups, fellowship, free time, food and relaxation.
Cost is $50 per person. Call 983-1188 or log onto www.alacca.org.
Public Square Rosary Crusade set for Oct. 10
KAMIAH — The community is invited to join the 2015 Public Square Rosary Crusade in praying for the nation Saturday, Oct. 10, noon.
There will be music, prayers, and praying of the Rosary. The local Public Square Rosary Rally will take place on Highway 12 by the Clearwater Bridge in Kamiah. Arrive early. Contact Virginia at 935-0003.