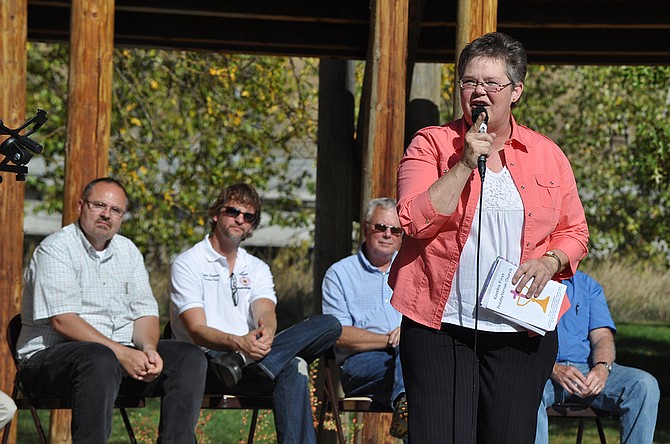 Photo by David Rauzi
More than 100 people gathered on Sunday, Oct. 4, at Riverfront Park in Kamiah for an appreciation event for local firefighters, EMS and law enforcement for their actions and dedication during the 2015 fire season. The speakers included (foreground) Reverend LuAnn Howard, Kooskia First Presbyterian Church. Seated in background are (L-R) Pastor Kelly Lineberry of The Life Center, Kamiah Chamber president and Kamiah firefighter Robert Simmons, and Lewis County Commissioner Greg Johnson.
KAMIAH — "Our professionals were extremely professional," said Kelly Lineberry, pastor for The Life Center in Kamiah, one of several speakers last Sunday recognizing efforts of local emergency service providers during this summer's devastating wildfire season.
More than 100 people attended the afternoon Oct. 5 recognition ceremony at Kamiah's Riverfront Park, honoring volunteer firefighters, EMTs and city and county law enforcement with multiple praises for individual dedication, selflessness, bravery and also determination to push through the exhaustion for days of effort to protect and serve the community threatened by wildfire in August as part of the Clearwater Complex.
"We live in a phenomenal community," said Robert Simmons, Kamiah Chamber of Commerce president and also a Kamiah Volunteer Fire Department firefighter. He recognized not only efforts of EMS personnel but also turned it around to note the community's overflowing contributions to assist victims, as well as individual efforts to assist their neighbors in fighting fire.
"You all are the backbone of our community," said Reverend LuAnn Howard, Kooskia First Presbyterian Church, that it was on both the shoulders and strength of those first responders they encouraged the community to look forward to hope; the message now, she said, is to keep that hope alive in the long recovery ahead.
"We can't do this by ourselves," she said. "We have to have each other, the strength and encouragement of each other."
Pastor Bob Lowry, Freedom Bible Fellowship, noted this gathering came together to hold up those individuals who "sacrificed without looking back" to warn individuals of the impending fire danger as well as those who with "sheer courage and determination" fought and struggled against "the monster with a relentless hunger for what is ours."
"We are forever grateful and in your debt," Lowry said.
As part of the program, three plaques were presented to representatives for firefighting, EMS and law enforcement, noting the names of those volunteers involved, their agencies and supporting agencies involved in the efforts of the August 2015 fire season.
Estimates from Idaho County are approximately 62 homes and 211 other improvements and outbuildings were destroyed -- and one life was lost as the result of an accident fall during evacuation -- as part of the Lawyer 2 Fire that blew up during a red flag event that Friday, Aug. 14. According to the Nez Perce-Clearwater National Forests, Lawyer 2 burned a total 41,195 acres, part of a total 66,284 consumed in the Clearwater Complex (also including the Fisher and Lolo 2 fires).
Sunday's event was hosted by the Kamiah Chamber of Commerce, City of Kamiah and the Kiwanis Club.