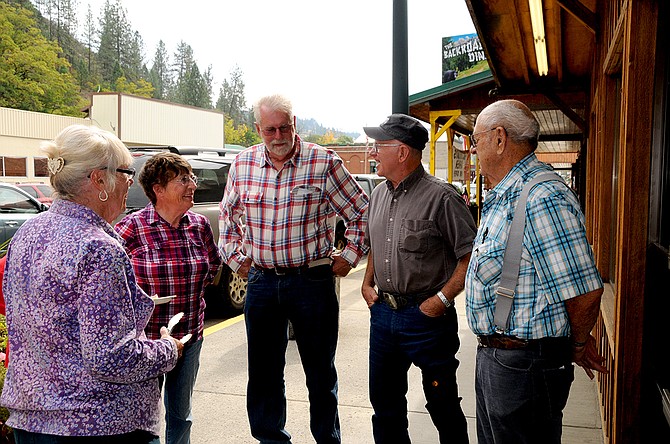 Photo by Lorie Palmer
A sunny day on Kooskia's Main Street Thursday, Oct. 1, drew a crowd of area residents to tour the Syringa Kooskia Clinic, have hot dogs, visit with new providers and friends and listen to music.
Do you want to win dinner at the Grangeville High School homecoming game? Cheerleaders are selling raffle tickets which are only $1 apiece. They will be drawing for a large pepperoni pizza and a two liter coke; two passes to the concessions stands for $20 apiece; and a surprise from the Boosters. Get a hold of a cheerleader or coach Alecia Hagen at the GHS office.
•
Quilt Treasures has moved from its strip mall location to 120 West Main Street, next to Seasons Restaurant. Join them for their one-year anniversary sale Oct. 9 and 10. Call 451-4909.
•
Up the Creek Heating and Air with Kevin Parris is now serving Kamiah, Kooskia and Grangeville. Call 476-9010 or 827-0556 for service and repair, installation, commercial refrigeration and heating and cooling products.
•
Don't forget to purchase your tickets for the Halloween Costume Ball set for Oct. 24 and sponsored by the Kids Klub. Purchase tickets at www.thekidsklub.org.
•
Taxpayers who qualified for an automatic extension of time to file Idaho returns must send their return and full payment by Oct. 15, according to the Idaho State Tax Commission. Call 1-800-972-7660.
•
It's the last chance for Lorraine's famous huckleberry or blackberry pie at The Syringa Cafe. The cafe will be open until Oct. 11 (closed on Tuesday and Wednesday) and re-open next spring. Call 926-4300 for reservations at River Dance Lodge, located at mile marker 90 on Highway 12. Log onto www.riverdancelodge.com.
•
If you have holiday information happening between Thanksgiving and the New Year, send it to me by Nov. 1 to be included in the Free Press special section insert "4 Weeks of Christmas." This will be a guide to shopping in the county as well as holiday activities. This can include business open houses, church programs, dinners, parties and concerts. E-mail lpalmer@idahocountyfreepress.com or call me at 983-1200.