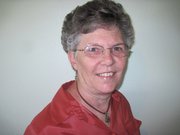 COTTONWOOD — The Historical Lecture Series has begun at the Monastery of St. Gertrude. These events, held on Thursdays during the month of October, provide insights into the history of our region and presentations on topics of interest to the local public. Lectures begin at 7 p.m. and end at 8:30 p.m. A question and answer session with the presenters follows the lectures. Light refreshments are provided. The events are held in the Johanna Room at Spirit Center at the Monastery of St. Gertrude located at 465 Keuterville Road, Cottonwood. The second in this series will be Oct. 8, when Richard Holm, Jr. is returning to share more of his experiences in Idaho's remote areas, sometimes only accessible by plane on a short landing strip. How had he become interested in this topic? His first brush with the subject began when he wrote an article about the Army Air Force Douglas B-23 that crashed in January 1943 on the shore of Loon Lake. Then he became involved in experiencing the back country on foot and as a commercial and private pilot. Now his findings are all bound in books Vol. I and II, and he can relive the journey many times over.
KC Men's Retreat: 18th annual Inland NW Catholic Men's Retreat is Oct. 23-25.
The theme is Continuing the Journey: Strengthening Our Walk with Christ. Cost is $110 per person for all three days which includes lodging and meals. The retreat is held at Camp N-Sid-Sen on the east shore of Coeur d'Alene lake. For sign-up, www.stpiuscda.org. For information and carpooling, contact Max Nuxoll, Jack Duman, Denis Duman, Dennis Green or Frank Bruno.
Piano at Holy Cross Hall: No one has come forward to claim an attachment to the piano at Holy Cross Hall. Contact the Tri-Parish office if you are interested in making a donation to acquire the piano, 962-3214.
Don't forget to join the 2015 Public Square Rosary Crusade. We will be praying for our nation on Oct. 10 at noon, rain or shine. The local Public Square Rosary Rally will be at the Cottonwood City Park. Contact Max Nuxoll at 507-1058, website is www.ANF.org.