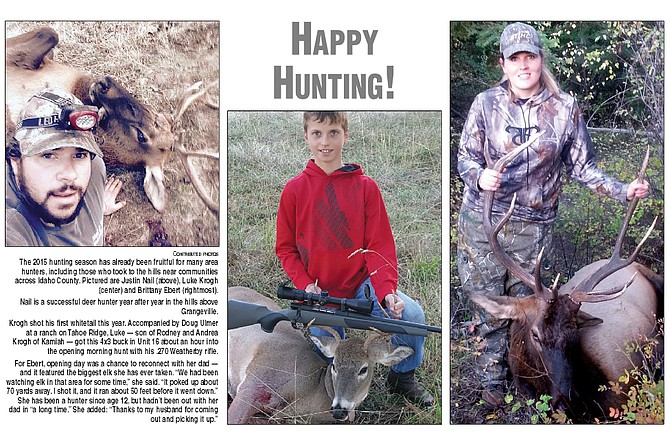 The 2015 hunting season has already been fruitful for many area hunters, including those who took to the hills near communities across Idaho County. Pictured are Justin Nail (above), Luke Krogh (center) and Brittany Ebert (rightmost).
Nail is a successful deer hunter year after year in the hills above Grangeville.
Krogh shot his first whitetail this year. Accompanied by Doug Ulmer at a ranch on Tahoe Ridge, Luke — son of Rodney and Andrea Krogh of Kamiah — got this 4x3 buck in Unit 16 about an hour into the opening morning hunt with his .270 Weatherby rifle.
For Ebert, opening day was a chance to reconnect with her dad — and it featured the biggest elk she has ever taken. "We had been watching elk in that area for some time," she said. "It poked up about 70 yards away. I shot it, and it ran about 50 feet before it went down." She has been a hunter since age 12, but hadn't been out with her dad in "a long time." She added: "Thanks to my husband for coming out and picking it up."