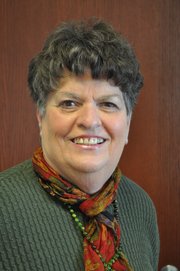 Harpster happenings
HARPSTER — Harpster's Halloween bingo, will be held Saturday, Oct. 24, at the community building... wear a costume and receive $2 off your bingo pack. The best four costumes win $10, $5, $5 and $5. Judging of costumes is around 6:15 p.m., so try to get there before that if you would like to be judged. Bingo starts at 6:30 p.m., must be at least 18 to play.
Harpster's 27th annual Christmas fair will be on Saturday, Nov. 7, at the community building, from 9 a.m. to 3 p.m. with all kinds of different products from many vendors, free coffee and hot lunch available with pies and desserts, and two drawings will be held that day. One is the famous 50-50 drawing, half the cash going to the building upkeep, and half going to one winner. Tickets for the pick-a-prize are $1 each or six for $5. A huge table full of prizes, you select the prize you want when your ticket is drawn.
KOOSKIA/KAMIAH — Do you enjoy writing? Well, here is a chance to show others what you can do. Kamiah Community Library will be participating in National Novel Writing Month which is in November and you are invited to join the fun. Drop by the library and pick up an orientation packet and get all the information you will need to participate.
Celebrate Lights on Afterschool in Kamiah, Thursday, Oct. 22. Lights on Afterschool is the only Afterschool Alliance nationwide event celebrating afterschool programs and their important role in the lives of children, families and communities. The Afterschool Alliance organizes Lights on Afterschool to draw attention to the many ways afterschool programs support students by offering them opportunities to learn new things — such as science, community service, robotics, Tae Kwon Do and poetry — and discover new skills.
This year's Lights on Afterschool event will take place at the Kamiah Elementary multipurpose room on Thursday, Oct. 22, from 6-8 p.m., with pumpkin carving and games. Light refreshments will be available. For information about KAP or YES Club call Tina at 935-4037. For information about KCPC call Chere' at 935-7647. This is a community event, so bring the whole family for an evening of laughter and fun!
What's Happening: Long Camp Saturday Farmers' Market and swap meet located on Highway 12 near mile marker 68, open 9 a.m. to 1 p.m.; only two weeks left to enjoy this event for the year. Bring your vegetables, Idaho arts and crafts, bakery treats, collectibles and yard sale items. For information call Connie at 935-7922. Schedule a mammogram at the Kamiah Clinic, 935-2585. Mammograms are by appointment and are done the second Wednesday of each month.
In Kooskia, recycle Saturdays only 10 a.m. to noon. The Recycle Center is located across the bridge where the old pole yard was. Be sure to separate items.
The Valley View Church of the Nazarene in Kamiah is hosting a Community Night every Wednesday. Meals will be served at 5:30 p.m. followed by activities in different age groups. Public is invited to attend.
Thursday there is free lunch served at the Kamiah Community Presbyterian Church located on the corner of 7th and Hill Street in Kamiah, from 11 a.m. until 12:30 p.m.
Kamiah and Kooskia Library have several programs for all ages. They stay open with the help of volunteers. If you have a few hours a day or week, get in touch with them and help.