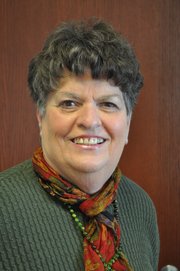 KOOSKIA / KAMIAH — Harpster's 27th annual Christmas fair will be on Saturday, Nov. 7, at the community building, from 9 a.m. to 3 p.m. All kinds of different products from many vendors, free coffee, and hot lunch available with pies and desserts, and two drawing will be held that day. One is the famous 50-50 drawing with half the cash going to the building upkeep, and half going to one winner. Tickets for the pick-a-prize are $1 each or six for $5. A huge table full of prizes, you select the prize you want when your ticket is drawn.
Kamiah Community Library will be participating in National Novel Writing Month which is in November and you are invited to join the fun. Meet and ask questions of local authors and maybe pick up a few tips to polish off your next novel. Drop by the library and pick up an orientation packet and get all the information you will need to participate.
There will be a huge number of trick-or-treaters out this week, watch for them. We are entering into a time of the year when there are a lot of elections; if you are not registered, register and vote. Many think their one vote does not count; well, don't vote and it surely won't count, and you lose your right to complain about those of us who do.
What's Happening:
Long Camp Saturday Farmers' Market and swap meet located on Highway 12 near mile marker 68, open 9 a.m. to 1 p.m. This is the last weekend to enjoy this event for the year. Bring your vegetables, Idaho arts and crafts, bakery treats, collectibles and yard sale items. For information call Connie at 935-7922. Schedule a mammogram at the Kamiah Clinic, 935-2585. Mammograms are by appointment and are done the second Wednesday of each month.
In Kooskia, recycle Saturdays only 10 a.m. to noon. The Recycle Center is located across the bridge where the old pole yard was. Be sure to separate items.
The Valley View Church of the Nazarene in Kamiah is hosting a Community Night every Wednesday. Meals will be served at 5:30 p.m. followed by activities in different age groups. Public is invited to attend.
Thursday there is free lunch served at the Kamiah Community Presbyterian Church located on the corner of 7th and Hill Street in Kamiah, from 11 a.m. until 12:30 p.m.
Kamiah and Kooskia Library have several programs for all ages. They stay open with the help of volunteers. If you have a few hours a day or week, get in touch with them and help. If you know or make news give me a call.