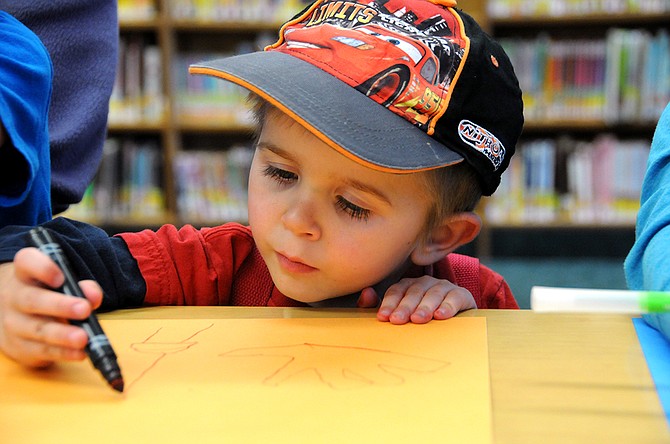 Photo by Lorie Palmer
Preschooler Rhett Newson of Grangeville works at a recent library story time.
Idaho remained unchanged in 2013-14 in its child poverty rate which remained at 19 percent, the same for Idaho County, while several states including Mississippi, Utah, Colorado, Nebraska, Arkansas and Montana all saw declines in children who fell at or below the federal poverty rate. By comparison, Alaska, New Hampshire, North Dakota, Hawaii, Vermont and Minnesota all saw increases in their child poverty rates.
The Annie E. Casey Foundation recently released new data in its annual Kids Count report.
The number of children birth to 17 on food stamp assistance in Idaho County in 2014 was 667 (659 the previous year) while the state had 101,525 children receiving food stamps, as compared to 109,392 in 2013. Although the state's birth to 17 population increased in the state from 26.7 percent in 2012 to 27 percent in 2013, Idaho County's birth to 17 population was at 20.6 percent in 2013.
"From September 2014 - September of this year, we have served 2,357 families which includes 2,050 children," said Carlene Whitesell, Camas Prairie Food Bank manager, Grangeville. "Most of our area served is Grangeville but we have some families from Cottonwood, Harpster and Clearwater. White Bird now has an emergency mobile unit. Sometimes we do get families from further away or those who are homeless."
Whitesell said the food bank's numbers stay about the same but the families served will vary each month.

"An ebb and flow of families served from various areas of the county keep our numbers fairly constant," she added.
Idaho County's Medicaid participants, birth to 17, numbered 846 in 2006, 743 in 2009 and 1,310 in 2014. In this category the state had 189,249 members in 2014.
Teen births decreased in Idaho County per 1,000 with 13.9 in 2012 and 3.5 in 2014. The state's numbers also went down with 11.7 and 9.2 for those years, respectively. However, the infant mortality rate per 1,000 went from 5.7 in 2009 in Idaho County to 14.8. At the state level those numbers are 5.4 and 5.6. Child deaths also increased with 5.4 per 10,000 in 2011-13 while the number was 1.4 in 2006-08.
The teen suicide rates for the state per 1,000 were 15.3 in 2006-8, 14.4 in 2007-09, 16.2 2009-11, 19.8 2010-12 and 20.8 2011-13. Rates for Idaho County specifically were unavailable.
Free and reduced lunch numbers for specific school districts were as follows:
*Cottonwood Joint School District 242: 51.2 percent in 2010-11 and 36.3 percent 2014-15.
Kamiah Joint School District 304: 49.1 percent in 2010-11 and 46.7 in 2014-15.
*Mountain View School District 244: 54.2 percent in 2010-11 and 53.5 in 2014-15.
*Salmon River Joint School District 243: 72 percent in 2010-11 and 60.6 for 2014-15.
*Statewide the numbers average to 50 percent in 2010-11 and 49.1 for 2014-15.
Idaho ranked number 26 in economic wellbeing in 2012 and but rose to number 16 in 2015. Education wise, Idaho fell from its rank of 30th in 2012 to 34th in 2015. However, in the area of family and community Idaho has a solid number 13 ranking for 2015.