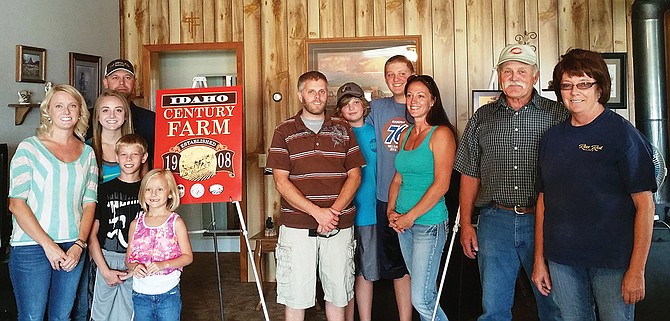 GREENCREEK — Saturday, Aug. 29, the Idaho State Historical Society awarded the Gregory Arnzen family a Century Farm Award for owning their family farm since 1908.
As part of Idaho's Centennial Celebration in 1990, the Idaho Department of Agriculture initiated a program to recognize the importance of Idaho's farming pioneers by designating farms or ranches that had been in the same family for at least 100 years and that included 40 acres or more of the original land parcel as Century Farms or Ranches. Ten years later, the program was taken over by the Idaho State Historical Society. Through 2015, more than 400 Century Farms in Idaho, with about 25 of these in Idaho County, have been recognized.
Born in Ohio in 1842, Joseph William Arnzen would marry Katharena Doedtman in 1868 in Illinois. They had 10 children; John, Elizabeth, Mary, Katherine, Bernard Annie, Joseph, Frank, George and Henry. The family moved to Idaho in 1925 seeking a better life. In 1908, Joseph purchased 120 acres near Greencreek.
Joseph dies in 1918 and Katharena in 1930. The farm would pass to their son Frank (1891-1965) in 1936. Frank married Mary Nuxoll (1896-1988). Their children were Freda, Carol, Alvin, Maynard, Philip, Regina, Florence, Dennis, Francis, and Urban. Philip would take over the place in 1961. Today the farm is owned by their son Gregory and his wife Nancy Arnzen.