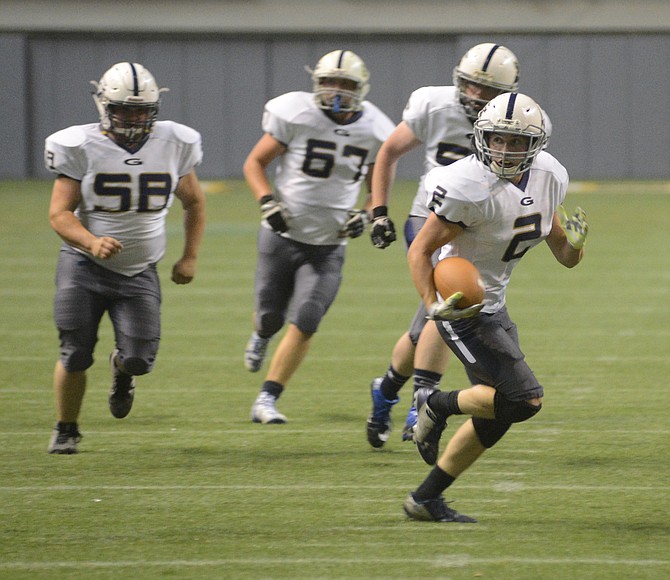 Photo by Andrew Ottoson
Grangeville's Jack Lawrence (2) scored Grangeville's first touchdown of the season on this play, which began with Lawrence running to his right before cutting back into a wide-open lane in front of blockers Jakob Layman (58), T.J. Wiltse (67) and Ben Lothspeich (52).
Photo Gallery
FOOTBALL: Grangeville at Moscow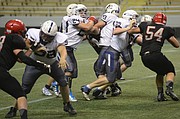 MOSCOW — The host Bears returned Grangeville's first kickoff of the season 85 yards for a touchdown, then stopped the GHS offense three-and-out despite committing an encroachment penalty on the game's first snap. Then Moscow's Devin Carscallen completed a 52-yard strike to Collin Niehenke on their first play from scrimmage, putting Grangeville behind by a 13-0 score less than two minutes into the game.
The Bulldogs bounced back with a scoring drive, but Moscow went on to win the fourth Zero Week opener between these teams, 40-21.
They've alternated each year, with Grangeville winning 38-10 in 2012 and 38-13 last year, with Moscow seizing the upper hand this year, having won 21-14 in 2013.
According to the Lewiston Tribune, the Bears had made a point of trying to break a kickoff return touchdown this year, having come close in last year's meeting. But on the play, Grangeville's coverage simply went wrong, with the kick ending up in the wrong place and at least one player leaving his lane.
Similar problems struck the Bulldogs' offense. Primary running back Jake Kaschmitter gained nearly 4.9 yards per carry and went for a total of 112 rushing yards run on a night the offensive line left quarterback Layton Harris with little time and frequently let Bears run freely into the offensive backfield.
"We were leaving somebody unblocked on almost every play," GHS coach Jeff Lindsley said. "That hurt our play-action, too. At the end, when we went with simple iso, we moved the ball."
After Lawrence's score, Moscow tallied three in a row to widen out a 40-7 lead. Grangeville's Jake Kaschmitter broke through in the fourth quarter, as did Cole Lindsley, who took a pass from Harris 70 yards to the end zone.
While the rocky start would have taken more than one big play to overcome, Moscow secured its grip on the game with a fourth down conversion late in the second quarter.
Facing fourth-and-five, the Bears extended their drive with a crafty run by Carscallen, who looked at his receivers for two beats before zipping around the right side for 23 yards.
A pass interference call handed the Bears a big gain instead of an incompletion on the next play, and Carscallen again took advantage of Grangeville's pass coverage with a well-executed sprint to the end zone.
Coming — Grangeville (0-1) is set to host Marsing at 7 p.m. Friday night, Sept. 4. Parma beat the Huskies 68-0 last week, and Grangeville thumped Marsing 41-6 during Week 1 last year.
Lawrence left the Moscow game with a muscle injury. While he may be cleared to play against Marsing, Lindsley said he'd rather have Lawrence rest.