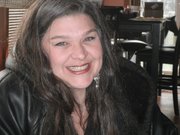 WHITE BIRD — It feels like fall is starting to set in. I've even seen smoke coming from some chimneys. The rain has been a well-needed blessing. I'm hoping God puts those fires out before the entire region burns up. It breaks my heart to know that my children's children will never see those forests the way I did.
The commissioners of our park and recreation district have set a date for a meet and greet. Everyone in the White Bird area is invited to come. The plan is, we will have a potluck dinner at the community building on Sept. 19. I'm not sure what the time will be, so just mark your calendar and I'll be sure and let you know what time next week. Bring a dish of anything you would like to share and your ideas. It's time to get something started. New ideas mean new beginnings and new beginnings mean new traditions. Be thinking about, not only what you would like to see happen with our new property, but how we can make it happen. Looking forward to sharing a meal with you all!
The White Bird Medical Relief Fund is planning another fund-raiser. It will be held on Sept. 26. There is going to be a side-dish contest that will accompany a brisket dinner. You can make either potato or macaroni salad, or baked beans for the contest. It does not need to be made on site, so make it at home and bring it with you. There is also no entry fee to participate. Judging is at 1 p.m., with dinner to follow afterwards for $5. In addition to the dinner, they will be raffling off a Savage .270, a cord of wood, and a homemade quilt made by Barbara O'Nash. Tickets are $5 each and they can be bought now at the Silver Dollar or get a hold of a Medical Relief member. Come share a meal with your neighbors and support our community.
The mobile food bank will be in town tomorrow. If you would like to help distribute the food, show up at the community center at 9:30 a.m. If you are picking food up, it should be ready by about 10:15 a.m. and will be handed out until it's gone. Last month it was gone before 11:30 a.m. Next month there will be a change in the time and dates of distribution. We are looking at possibly the first Thursday of the month, and later in the day. I'll keep you posted. If you have any questions you can always call me, 839-2234.
Happy Birthday this week to: the beautiful Millie Robinett, Wayne Whinery, Jacob Larson, Kathryn Van Acker, Debbie Johnson, Dale Rosenbaum, Suzanna Lowry, Jerry Greer, Kamie Laurence, Amber Brumley, Jake Johnson, Shilo Storey, David Seyer, Sharon Sickels and Tiffany Stolberg.