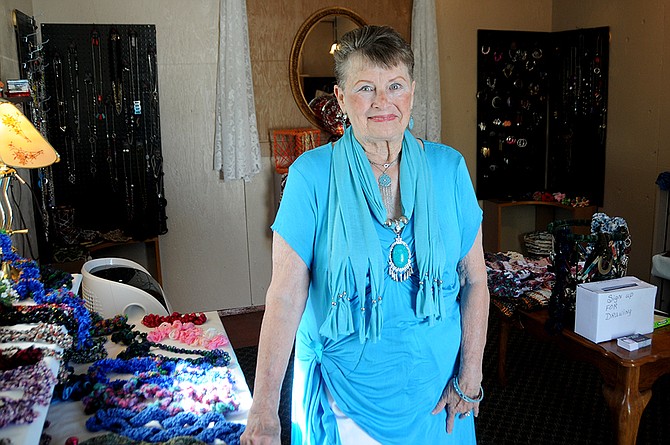 Photo by Lorie Palmer
Jan Meggerson is opening Jan's Paparazzi Boutique Sept. 19.
Grand opening is Saturday, Sept. 19
GRANGEVILLE -- Jan's Paparazzi Boutique, 322 W. South Street, will host its grand opening Saturday, Sept. 19, 10 a.m. to 6 p.m.
A drawing will be held and refreshments served.
Call 507-1672 or e-mail whatname21jm@gmai...
GRANGEVILLE — Come Saturday, Sept. 19, Grangeville will have one more place to shop.
Jan Meggerson is opening "Jan's Paparazzi Boutique" at 322 W. South Street, located just behind the courthouse.
Meggerson will offer a large variety of the Paparazzi brand jewelry for $5 each which includes necklaces, earrings, bracelets, hair items and rings. In addition, she has made an assortment of crocheted items as well as baskets using recycled materials.
Meggerson, 77, and her husband, Tom, have lived in their Grangeville home for going on four years. They previously lived in Kamiah for a decade.
"In earlier years we owned a silversmith shop in Oregon and before that a grocery store in Utah," Meggerson explained. "So I do love interacting with people."
A variety of circumstances go into making Meggerson's new venture unique. Namely, she is legally blind due partially to genetics and macular degeneration. Her husband is also on hospice care with cancer.
"Neither of us drive and I am not one who can just sit and watch or listen to television," she said. "I need to keep busy."
That need allows her to use her skill of crocheting, a talent her mother taught her when she was only 5 years old.
When her husband could no longer utilize his wood shop behind their home, they decided to turn it into something that would help supplement their income a little, she said, plus allow her to have more interaction with people.
Meggerson said she would like to start a support group for people with visual disabilities. She is teaching herself to read and write braille and would be interested in sharing in that education as well as combining other resources for the visually impaired.
"My grandfather was blind and before he died he had read the King James Bible in braille three times," Meggerson said. "He was a great mentor to me, showing me that you go on living and do your best no matter what your situation." Her grandfather also spent a lot of time walking, something Meggerson also does -- out of necessity and for pleasure.
Meggerson took that determination and at the age of 69 obtained an associates degree on-line and soon after completed a bachelor's degree.
"I do wish I had learned to read braille when I was a child. It would have been easier and I could have bene translating now," she lamented. "One page of printed material is 35 pages of braille – it's quite complex."
The couple have eight children between them as well as nine grandchildren. Meggeron's two daughters died of breast cancer within nine months of each other. Tragedy has given her resilience and she said she is excited for the opening of her boutique.
"I really cannot wait to see how it does," she smiled. "And it's keeping me busy!"