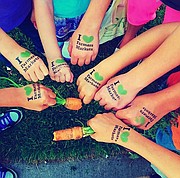 Farmers' market last day is this Saturday
GRANGEVILLE — The Grangeville Farmers' Market will hold this year's final harvest market this Saturday, Sept. 19, 9 a.m. to 1 p.m., Pioneer Park.
New in 2015 was the addition of the Grub Club, a free program for children ages five through 12 years old. This was started with a grant from the Grangeville Community Foundation as seed money. The 2015 season was extended from recent years and held an extra "Taste of the Market" during the last Grangeville Arts' Thursday music in the park. New signs, new awnings, formation of a steering committee and new vendors featuring German baked goods, Salmon River produce, handmade crafts and jewelry were also signs of growth in the market.
In addition to an Instagram contest win (see photo and cutline), also awarded this season is a grant from the Grangeville Elks Lodge. This grant will be used to support the Grub Club. Ellissa and Brian Crowl have organized and run this program.
Plans for 2016, the 10th season, include more visibility in the community through participation in Border Days, holding the market during all four Thursday evening music in the park events and invitation to local non-profits to display on market days.
Those interested in becoming a vendor (most recent survey showed customers would like to see soaps, artwork, gluten free bread, prepared food, pet supplies and eggs), call Michelle Perdue at 983 3763, visit Grangeville Farmers' Market on Facebook or stop by the market.
Evie Ruttman is retiring from Alicebelle's salon in Grangeville after 38 years. She will be moving to Boise to be near family. Perm and color records will go to Shear Magic for those who haven't yet picked them up.
•
Idaho County Courthouse will be missing a couple of familiar faces as Leigh Zimmerman retires and Kathy Johnson takes a different job.
•
Harman Agency will host its fall grower meeting Friday, Sept. 18, at the Cottonwood Community Hall. Meeting starts at 5:15 p.m. with a tri-tip dinner to follow.
Topics will include fall price announcements, changes to the 2016 Multiple Peril Crop Insurance (MPCI) Policy, whole farm revenue protection, livestock risk protection and new malt barley endorsement.
RSVP as soon as possible to 962-3221.
•
Lewis Clark State College Grangeville Outreach will host three upcoming enrichment classes.
Got Shade? With Mike and Joan Mount is set for Oct. 5, 6-8:30 p.m., in the Grangeville Elementary Middle School community room. Cost is $25 and the topic is preparing the yard for next summer's heat.
Juicing! will be instructed by Elizabeth Fantini and will go over the benefits of making fresh fruit and vegetable juices. Cost is $22 and it will be held at The Gym Oct. 6, 6-7:30 p.m.
Sherrie Beckman will present 5 Money Questions Oct. 7, 6-8 p.m., at Super 8 Motel conference room. Cost is $25 and Beckman is donating her fees to the Grangeville High School dual credit scholarship program.
To register call coordinator Carla Nuxoll Wilkins at 983-2164 or e-mail cnwilkins@lcsc.edu.
•
Warning: Mike Connolley of Mt. Idaho received a call from someone claiming to be from the IRS who said they were going to "enforce a tax lien on me and that I needed to call them back at 509-774-0260, and be ready to give them my social security number," Mike said. He looked up the number and it's one many people have received scam calls from. Never trust these types of calls and never give out your SS number!
•
Well the Lewiston Round-up was fun and in the books for another year. Many represented Idaho County at the parade, royalty luncheon and rodeos including Idaho County Fair royalty (queen Katrina Frei, first princess Rachel Kelley and second princess Davi Murphy); Border Days queen and princess, Maggie Chmelik and Hailey Russell, respectively; Riggins Rodeo Queen Bella Klapprich; White Bird Rodeo Queen Kayleen Lowe; CVRA Rodeo Queen Jade Paul; and, of course, the 2015 Lewiston Round-up Queen Jayde Wilson of Cottonwood. In addition, dance teacher Shirley Sears, who comes to Grangeville from her Clarkston studio each Monday, was at the buggy's helm again as she drove the grand marshals in the parade and rodeos.
It was a beautiful weekend for all sorts of activities!