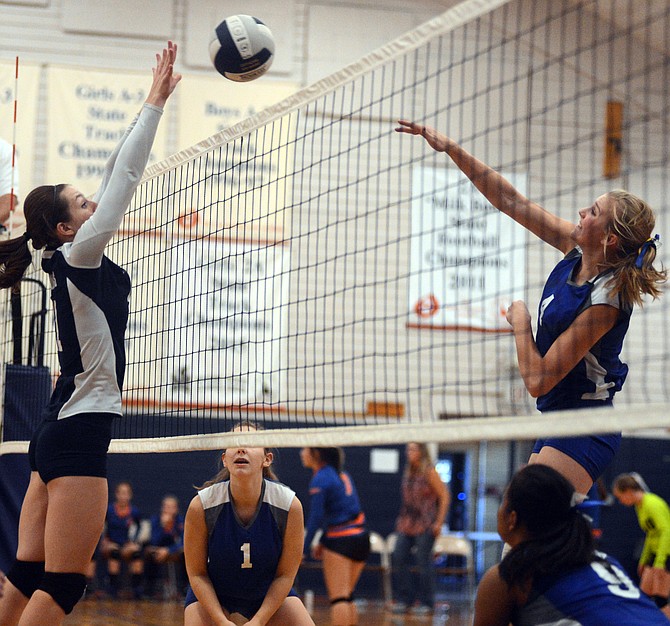 Photo by Andrew Ottoson
Sarah Laritz and Hailey Sullivan battled at the net twice during the Sept. 19 Grangeville Tournament, with Laritz's Savages victorious in pool play and Sullivan's Bulldogs triumphant in the tournament finale.

GRANGEVILLE — Grangeville finally won its own tournament, much to the relief of GHS head coach and tournament organizer Kelcey Edwards.
"I was pleased," Edwards said. "It's the first time I've won our own tournament."
The 2015 version included Summit Academy, Nezperce, Cascade and Tri-Valley.
"We have good teams playing in this event," Edwards said. "Salmon River has improved tremendously since last year, and Summit always battles."
Senior-led Grangeville looked like a team under pressure during the first set of the final match, while much younger Salmon River scored many points on tempo, by returning Grangeville's numerous off-speed attempts with quick transitions to their middles, Chevelle Shepherd and Sarah Laritz.
"Salmon River can shorten the court on you and play everything through those two," Edwards said. "When we started hitting, it made all their players play."
GHS pulled off quite a comeback to win the final match (6-25, 25-23, 15-6).
The second set of the finale began much the same as the first, with Salmon River tallying five consecutive points before a sideout brought Hailey Sullivan to the serve line.
Sullivan tied it, 5-5, but the Savages took the next four in a row. Rachel Kelley's serve brought GHS back within one, 8-9, but Salmon River again advanced its lead to four, 12-8.
After Madison Brown's serve lifted the Bulldogs to a 15-15 tie, the tension in the GHS gym began to build with each successive sideout. The teams went 16-all, 17-all, 19-all and 20-all before a joust at the net resulted in a call that went Grangeville's way, after which momentum stayed with the Bulldogs.
With GHS leading 22-20, Tucker called timeout and Salmon River rallied back to 23-all. That's when Rachel Kelley stepped to the serve line, and let loose a couple of rockets that won the set and leveled the match.
The Savages battled through the end of the second set. Salmon River's Ryan Simonson dove into the court-side seating in a desperate bid to return the set point, and succeeded in cycling it back into play.
"Did you see her leg? Her shin is all skinned up, she has a bruise and she's got a big bump swelling in her thigh," Savages coach Paula Tucker said.
After Grangeville unloaded a heavy hit, Salmon River again recycled it, only for the game to end on a mis-hit into the net. The Savages' offense had been steady and consistent before that, but waivered a bit during the third set.
"We like to attack early," Tucker said. "That's been an adjustment for one of our players. I wasn't too pleased with our tempo earlier in the year, but was happier with it today."
Sullivan's serve ran the score from a 2-2 tie to an insurmountable 9-2 Grangeville lead.
"I'm happy with that last match because of what we're going to learn from it," Tucker said. "You can't let up the way we did."
During pool play Grangeville and Salmon River met as unbeatens, with the Savages winning two close sets to force GHS to play third-seeded Summit in the first round of bracket play. Grangeville beat the Patriots (25-18, 25-21) to force a rematch with Salmon River.
Summit and Grangeville tied at 4-4 and 5-5 before Sarah Wilson's turn to serve. Wilson put GHS ahead 8-5 — a lead Grangeville increased to five during Kally Arnzen's serve. Katrina Frei ran it to nine, 23-13, effectively ending the first set. A sideout at 15-13 kept the Patriots' second set close, after which Grangeville pulled away.
In the consolation bracket final, Tri-Valley beat Nezperce.
*
Brown totaled 38 kills during Grangeville's 17 games, while Sullivan (22) Maicee Conner (19) and Wilson (15) all averaged about a kill per game. Kelley also posted double-digit kills on the day (11). Abigail Stowell posted the team's highest attack percentage, but on less volume (five kills).
*
Grangeville's path to the victors' bracket featured extra-set wins over Summit (23-25, 25-16, 15-7) and Tri-Valley (22-25, 25-17, 15-9), as well as cleaner wins over Nezperce (25-16, 25-16) and Cascade (25-17, 25-19) — all of which came before the loss to Salmon River.
"Salmon River was down a starter, so they're even tougher than we saw," Edwards said. "And Summit, they're playing good ball."
Salmon River swept through pool play with the following scores: they beat Cascade (25-9, 25-10), Tri-Valley (25-16, 25-21), Nezperce (25-18, 25-9), Summit (23-25, 25-21, 15-12) and Grangeville (25-23, 25-23).
Up next for Grangeville, Central Idaho League play opens Sept. 26 at St. Maries. GHS played Troy after the print deadline.
Up next for Salmon River are home games, all times MT, against: Garden Valley (6 p.m. Sept. 24), Summit (3 p.m. Sept. 26), Meadows (6 p.m. Sept. 26), and Cascade (6 p.m. Oct. 1). Salmon River will host a tournament Oct. 3.
Up next for Summit is a Sept. 24 tri-match in Grangeville with Kendrick, then Sept. 26 at Riggins with Meadows, then 6 p.m. Sept. 29 against Logos.