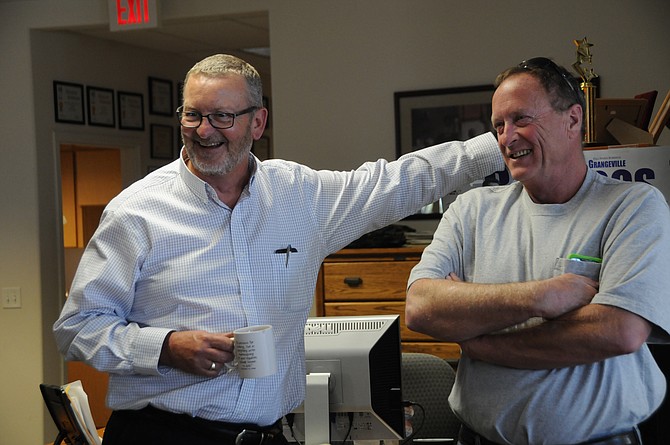 Photo by Lorie Palmer
Andy McNab has a laugh with friend, Lowell Williams, Sept. 25.
Syringa Hospital and Clinics is inviting the public to an Open House of the Syringa Kooskia Clinic, 022 North Main Street, Thursday, Oct. 1, 11 a.m. – 2 p.m. The event will feature tours of the newly expanded clinic, a free lunch, live music, and a meet and greet with the two new providers of the Syringa Hospital District. Call 926-4776.
•
Tiffany Stinson was named the August Employee of the Month for St. Mary's Hospital. She has worked in the environmental services department since April 2014.

She attended Prairie High School and graduated with honors in 2013. Her hobbies include catching up with family, playing with her dog and watching old movies. Her parents are Craig and Tracy Hood.
•
House Call Vet Dr. Kim Wolfrum will be in Elk City Tuesday, Oct. 6, 8 a.m. to 11 p.m. She will be staying at Prospector Cabins and can also be contacted through the post office. Schedule an appointment by Oct. 4 by calling 553-9283.
•
The GHS library is staying open Monday-Thursday until 4 p.m. to offer extra help to students. Students can stop by and work on homework.
•
Are you interested in learning how to support your immune system, respiratory system and manage your moods as well as many other health concerns?
Cindy Nelson (208-507-0541) our local DoTerra Advocate is hosting a free DoTerra Essential Oils Workshop at Groaners Fitness at 505 W. Main Grangeville Oct. 2, 6:30 p.m.
•
Lewis Clark State College Grangeville Outreach classes include the upcoming Weave a Hearth Basket with Julia Haus set for three Wednesdays starting Oct. 14, at the GEMS art room, 6-8:30 p.m. Cost is $57.
The Bed and Blessings Tour at The Monastery of St. Gertrude in Cottonwood with Sister Carol Ann Wassmuth is Oct. 15, 10 a.m. to 1 p.m., and includes lunch. Cost $33.
Organic vs. Traditional Gardening with Mike and Joan Mount is set for GEMS Oct. 19, 6-8:30 p.m. Cost is $25.
Call coordinator Carla Nuxoll Wilkins at 983-2164 or cnwilkins@lcsc.edu.
•
Thanks to everyone who stopped in at the Free Press McNab retirement open house last Friday. It was a lot of fun with a wonderful staff lunch held first, catered by Sheila Bowles Arnzen with Superior Events (and Shiznits). Then we had the awesome cupcakes made by Beth Sturdevant at our open house. Great day with great food and people.
•
The Idaho County Sheriff's Office, in conjunction with Grangeville City Police, Grangeville Fire Department, and the Syringa Hospital ambulance crew, invites the public for the annual Trunk or Treat event Saturday, Oct. 31, 3-5 p.m., in the back parking lot of the Idaho County Courthouse.
To make candy or prize donations you can drop them off at the ICSO, 983-1100.