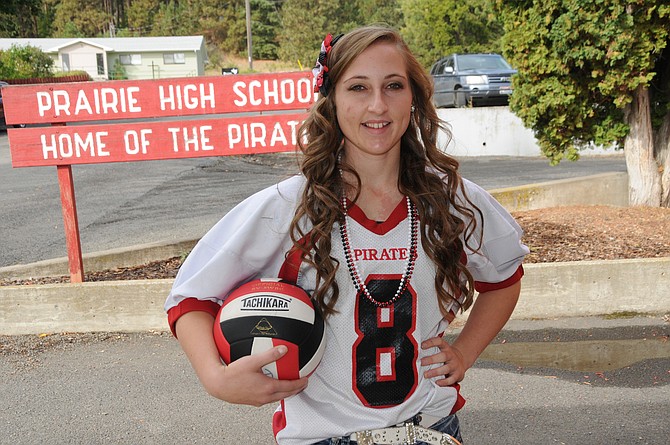 Photo by Lorie Palmer
Hailey Danly will put on the "Think Pink" volleyball tournament Oct. 15 at Cottonwood.
COTTONWOOD — For Prairie High School senior Hailey Danly, tradition is at the root of her senior project.
"I wanted to help continue Prairie's 'Think Pink' volleyball tournament tradition, to keep it a strong, fun community event," she said.
Danly will be putting on the "Think Pink" volleyball tournament Thursday, Oct. 15, 5 p.m., at the PHS gym. Prairie will take on Grangeville with C team playing at 5 p.m., followed by junior varsity around 6 p.m., and varsity at about 7 p.m.
The tournament has been run by PHS students for a number of years.
Danly has been obtaining support from the community to put on the tournament, with St. Mary's Hospital and Clinics helping to offset team T-shirt and other costs. Prairie's Booster Club is also a major sponsor.
Danly has played volleyball four years, and also plays basketball and softball at PHS.
"I love sports," the soft-spoken Danly smiled. "I really wanted to concentrate on a senior project that involved sports and the community. We have great communities that really come out and support the event. I appreciate all they do."
Think Pink raises funds for local cancer awareness programs, namely breast cancer.
"I know many people who have been affected by cancer in one way or another and I think it's important to support local resources and research," Danly explained.
She has worked on T-shirt designs not only for the teams, but also for the community.
"I would love to see everyone purchase a T-shirt or at least wear pink to the matches," she said. "I really hope to 'pink out' the gym with everyone who attends."
Danly is also offering a competition between the classes at PHS to involve her entire school.
"It's not just for volleyball players – everyone can get involved," she said.
Danly is the daughter of Greg and Lynn Danly and following graduation plans to obtain a degree in civil engineering.
She enjoys all sports, math and history classes and outdoor activities.
"I am not sure where I will end up one day, but I do hope to live in a rural area similar to Cottonwood. That's what I love," she smiled.
T-shirts in adult sizes xs-xl are being sold for $15. Text or e-mail Danly for T-shirt orders by Oct. 2. Pay for and pick up shirts on game day. In addition, those who wear pink to the game will have their name placed into a drawing for gift baskets donated by businesses in both communities. Donation jars will be present during the game, and all proceeds will be sent out to support breast cancer.
Contact Danly at (208) 553-0377; hailsdanly1@gmail.com.